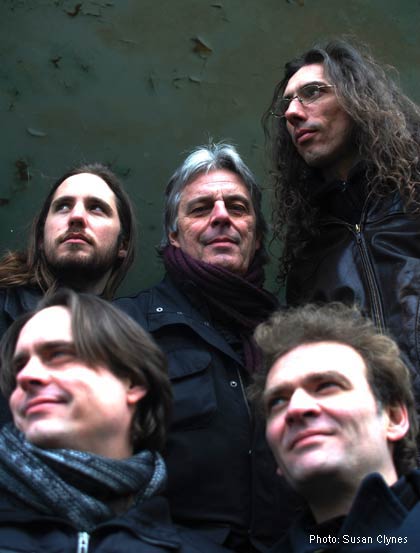 Welcome to the Univers Zéro Tribute website!
Here you can find information regarding UZ's history, discography, photo gallery with never published photos, a download session where you can see some small extracts of shows, a mailing list you can subscribe to receive news We hope you enjoy.
Created and maintained by Michael Bohn & Renato de Moraes March 1. 2016
• 01.03.16 - These pages was substituted by the official Univers Zero website with this: www.univers-zero.com in january 2016.

This situation has changed again, look further down the page - 03.06.2019 - Univers Zero doesn't have an official website for the time being.

We got some requests to upload the old site again, so here you are, it will be maintained as needed.

-------------------------------------------------------------------------------------------------------------------------------------
• 23..010.23

Lueur by Univers Zero is just out as CD and LP
available here for orders
https://subrosalabel.bandcamp.com/album/lueur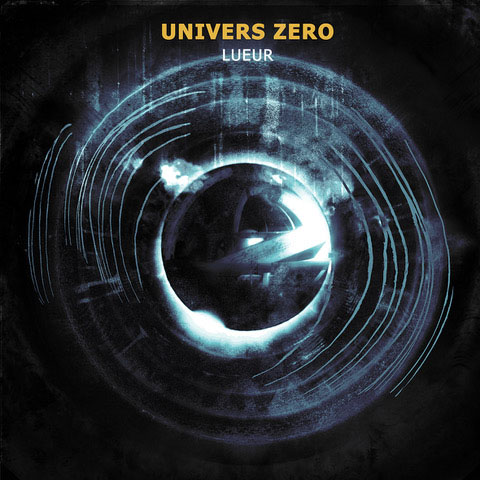 • 13.02.23

Interview 06.02.23 in French UNIVERS ZÉRO 1313 – Résurgence d'un big-bang

• https://www.rythmes-croises.org/univers-zero-1313-resurgence-dun-big-bang/

• Machine translated into English (so beware) https://www-rythmes--croises-org.translate.goog/univers-zero-1313-resurgence-dun-big-bang/?_x_tr_sl=fr&_x_tr_tl=en&_x_tr_hl=en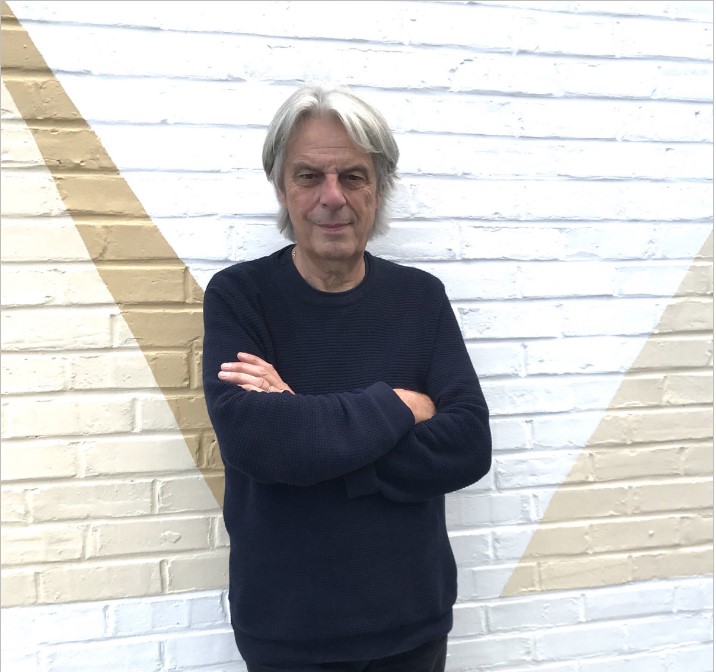 • 04.02.23

• New CD /Lp will be released by SUB ROSA this year.
Daniel Denis/Univers Zéro: No title of the album yet.
11 tracks. Nicolas Dechêne plays on a few tracks as well as Daniels son Nico (vocals, bass guitar and percussion). Kurt Budé plays on two tracks.
The recordings are almost finished. Recorded at Didier De Roos studio, expected to be released March 2023.

• 1313 - re-release.
A vinyl limited to 74 copies is now available as collector's version, signed and numbered with a cover for the occasion. This is 1313, a French Atem pressing from 1982.
The 74 copies of 1313 will be sold for 40 euros + the cost of sending.
Order the album via: facebook: CANTAL SCHMITZ
https://www.facebook.com/cantal.schmitz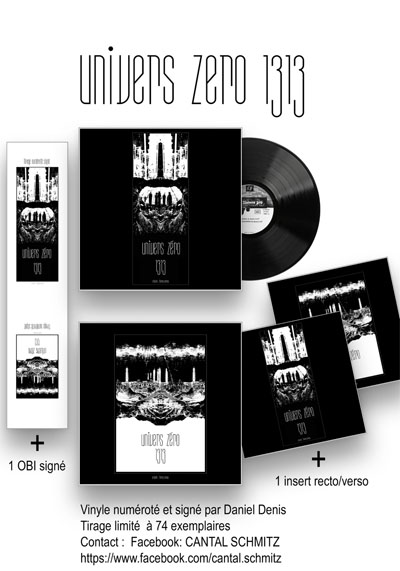 • 18.05.20 - Daniel Denis have started to compose again.

On youtube 4 drumvideos have recently been posted. here is one:



Here are the other 3: https://www.youtube.com/channel/UCIYg-GTR5YA7pQ4EDTxyW9w


• 05.11.19 - "Phosphorescent Dreams" will be released on "Sub Rosa label" around October 24th 2019.
It comes out on CD (like the Japanese version) and on vinyl (with two less songs).

Sub-Rosa is also planning a 3 CD set with the 3 1st records, including the remaster version of Ceux du Dehors.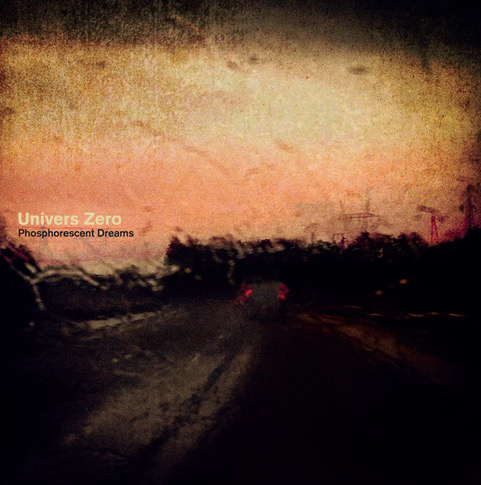 • Downloads of the 3 first albums: https://universzero.bandcamp.com/

• 03.06.2019 - Attention: The former official website http://www.univers-zero.com/ is now a spoof, and has nothing to do with the band Univers Zero, although it claims and pretends to be. Daniel Denis has nothing to do with its containts.
Whatever this website offers you or inform you about albums, boots, and concert dates, etc. it is rubbish & fake.

• 11.07.2018
Re-releases in VINYL - Label: Sub-Rosa


Univers Zero - Univers Zero
SRV399
release year: 2016
2LP gatefold black vinyl
Buy here


Univers Zero - Hérésie
SRV401
release year: 2017
Limited gold/orange vinyl + insert
Buy here






Univers Zero - Relaps / Archives 1984-86
SRV392
Buy here

release year: 2014
CAPTAGON YEARS SERIES #6
marbled clear/blue/black vinyl 2LP first edition: sold out
second edition as marbled vinyl: available






AND
Ceux du Dehors will be out in 2018 by Sub-Rosa Label as well


The tracks Dense, La Corne, Combat, Erich Zann are remixed versions.

Download:
https://universzero.bandcamp.com/album/ceux-du-dehors-1981

• Photos from the concert at the Zappanale 2015 - (http://www.zappanale.de/en/)
• Christian Genet has kindly provided www.Univers-Zero.com some photos from the recording session of 1313 in 1977.
• Univers Zero will play at the "Zappanale festival" (Bad Doberan) in Germany on the 18th of July.

•11.01.15 Prague concert is cancelled!
•24.09.2014 The album Relaps as vinyl 2LP is now available.

•30.08.2014 - The album Relaps will be relased as 2LP (vinyl) 21.september 2014 by the Belgian label "Sub Rosa" www.subrosa.net

• Concert announcement: Prague 2015 27th of March. Venue : Akropolis Palace. Kubelikova 1548/27 130 00 Prague 3.
The organizer: Prague Music Performance


•12.3.2014 - 2014 Interview with Daniel Denis in English.

• Read UZ keyboardist Antoine Guenets excellent blog:
My experience as a 27 year old fresh member of 40 year old cultband Univers Zero (Part 1 : Joining for Mexico):
http://coupleofweirdos.wordpress.com

My first year with Univers Zero (Part 2 : studio and RIO Festival):
http://coupleofweirdos.wordpress.com
•8.2.2014 - 2014 Interview with Daniel Denis in French.


• 19.01.2014 Photos from the recording session of Phosphorescent Dreams at Studio Dingo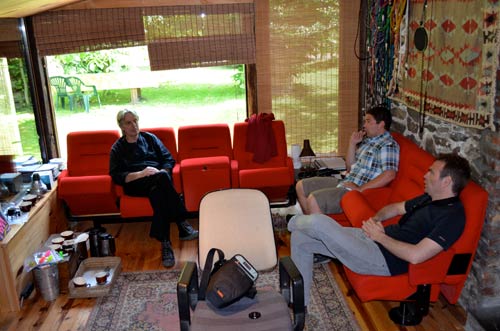 • 16.01.2014 - Univers Zero composed original music for a series of experimental short films made during the 1920s and 1930s.
The avant-premiere of this project happened at the Cinetica Nacional, in Mexico City on April 20, 2013. Here is an edited video with highlights excerpts of the movies and music performed during this occasion.

The whole work will be ready soon and Univers Zero will be available to perform this live.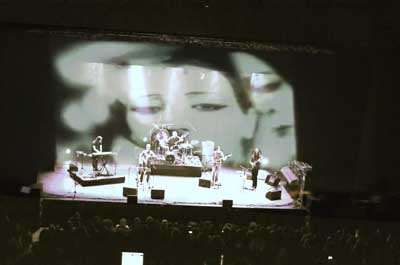 Photo: Susan Clynes - Click for a larger photo

• 06.01.2014 - Samples/Excerpts has been added to the Phosphorescent Dreams page. Here
• 02.12.13 Details regarding the coming album Phosphorescent Dreams can be read here

• 13.11.13 - New album Phosphorescent Dreams coming up. Release date will be on February 19th 2014 on the label Arcangelo (Japan) and will be distributed by Diskunion.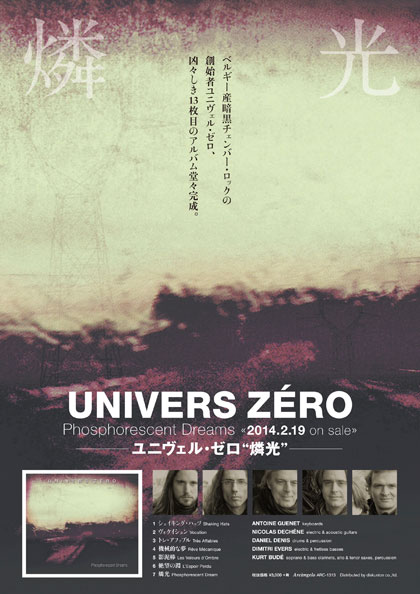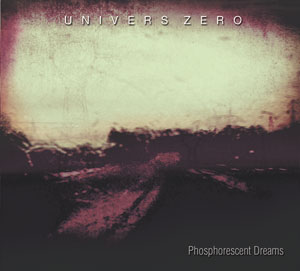 • Photos from Rock in Opposition festival 21. september 2013
ProgRockFoto: Pictures www.progrockfoto.de


• 7 July 2013.
Univers Zero is now in the studio recording a new album with the personel below. No title yet, planned to be relased in December 2013.


• New UZ lineup photo (from top to bottom, left to right):
Antoine Guenet - keyboards
Daniel Denis - drums
Nicolas Dechêne - guitar
Dimitry Evers - bass
Kurt Budé - clarinet, sax
Read more about this new lineup here

Concerts:
The next concerts are in April in Mexico.
19 April - Univers Zero concert at Teatro de la Ciudad (Mexico City)
20 April - Univers Zero cine-concert at Cineteca Nacional (Mexico City)
21 April - Univers Zero concert at Festival Puebla TBC

The 20 april at the Cineteca Nacional we play with short experimental films of the year 1920/1930
• RIO festival: Rock in Opposition the 21th of September 2013 Cap Découverte /Le Garric -France


• Romantic Warriors II - A Progressive Music Saga, a documentary series about Progressive Music.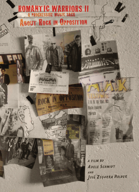 "The groups the record companies don't want you to hear". This was the tag in the poster of the first RIO festival in 1978, symbolizing the anti-commercial stance of these bands and the 'uncompromising' character of their music. RIO bands embrace musical styles such as progressive rock, Zeuhl, improvisation, noise, avant rock, jazz, classical, folk and often extreme experimentation.

Bands in the documentary: Aranis - Chamber Rock (Belgium) Guapo - Zeuhl/Post-Rock (England) Hamster Theater - Avant Folk (USA) Magma - Zeuhl (France) Miriodor - Avant Rock (Canada) Present - Heavy Chamber Rock (Belgium) Ruins Alone - Avant Zeuhl (Japan) Sleepytime Gorilla Museum - Avant Metal (USA) Thinking Plague - Avant Rock (USA),
Univers Zero - Chamber Rock (Belgium) Yugen - Avant Rock (Italy)

Interviewed musicians that were active in the 70s include Chris Cutler (Henry Cow/Art Bears), Gerard Hourbette (Art Zoyd), Marc Hollander (Aksak Maboul), Christian and Stella Vander (Magma), Giorgio Gomelsky, Roger Trigaux (Present), Franco Fabbri (Stormy Six), Lars Krantz (Samla Mammas Manna), Paul Sears (The Muffins), Ferdinand Richard (Etron Fou Leloublan), Bruno Meillier (Etron Fou Leloublan), Michel Berckmans (Univers Zero), Andy Kirk (Univers Zero), Guy Segers (Univers Zero), and Daniel Denis (Univers Zero).

Read more, buy the DVD, or view a short trailer here: http://www.progdocs.com/Home.html

• On Sunday, June 3, BBC 6 will air Univers Zero's "Influences" on Stuart Maconie's Freak Zone show
which starts at @ 20hr (UZ will be in the middle of the show)
http://www.bbc.co.uk/programmes/b01jk7bq
The show will be made accessible on the BBC website for 7 days afterwards
• June 1, Les Tritonales, Le Triton, Paris, France (Les Tritonales Festival)
CANCELLED!



• The 28th of April: GOUVEIA ART ROCK FESTIVAL -PORTUGAL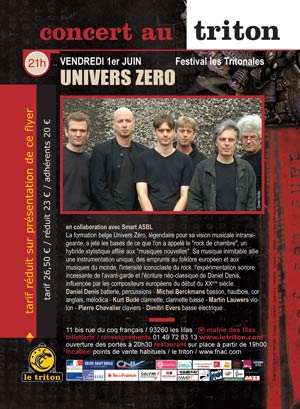 • the 14th of April: GRAMMATIKOFF/ DUISBURG- GERMANY www.grammatikoff.de (the announce on their website is not indicated yet)


UNIVERS ZERO live in Japan:

• 11th Feb. 2012 Star Pine's Cafe, Tokyo, Japan
guest : Korekyojin with Akihisa Tsuboy
Read more

• 12th Feb. 2012 Star Pine's Cafe, Tokyo, Japan
(afternoon / evening show *two shows)
Read more


• After the very successful concert of the three united bands Aranis + Present + Univers Zéro - "Once Upon a Time" , at the RIO Festival, if you missed, this is going to happen again in 2012: Once Upon a Time at: Les Abattoirs, Bourgoin-Jallieu, France
February 3, 2012

• 29. march 2011 - Press release page updated + other adjustments.


• 3. November 2010 - Daniel Denis has a post in the weblog in the magazine Modern Drummers online version.


•17. October 2010 - Photos from the Riga event.



•28. July 2010


• Heresie - Univers Zero's second album remixed and remastered by Didier De Roos.
It will be available at Cuneiform Records / www.waysidemusic.com from sometime in september 2010, at UZ concerts, and It will also be available from Daniel Denis at the RIO Festival (he isn't performing, but he'll have a vending table.) .
Real street date: sept. 28.
See the cover and hear some samples here.


• 2010 Sonic Circuits Festival http://dc-soniccircuits.org/
Saturday, September 25, 2010 La Maison Française
7pm Univers Zero (Belgium) Miriodor (Canada)
Tickets for sale now: http://dc-soniccircuits.org/festival/2010/

The Sinfonietta Riga ensemble will at the New Music Festival Arena in Riga on the 15th october play :
Carabosse
La Corne du Bois des Pendus
Chinavox
Rapt d'Abadallah
Variations on Mellotronic's Theme
La Mort de Sophocle
L'Ogre et ses Appâts
Kermesse Atomique
More info: www.arenafest.lv/2010/calendar.htm


22. April
• UZ is selling T-shirts with Clivages cover (see here - click)
Payments via Paypal to the e-mail address:
universzerocontact@yahoo.com
Sizes are M, L and XL
The price is 16 euros + the shipping :
Belgium 2,07 euros
Europe 6 euros
Rest of the world 6,90 euros


20. February
• The interview with Daniel Denis in the magazine Modern drummer (february issue 2010) is available as pdf-file here

(Link opens in a new window).

13. february 2010
• The interview with Daniel Denis on French Radio can be found as mp3 via 'Kohntarkosz - The Blog for Magma and Zeuhl Music':
http://kohntarkosz.blogspot.com/2010/02/daniel-denis-interview-tapage-nocture.html

12. january 2010
• Daniel Denis is interviewed by the american magazine "Modern Drummer" this month (February issue). The interview is not yet online.
• Daniel Denis is interviewed on France Musique /Broadcasting "Tapages Nocturnes" this 28th of January (exact broadcasting time to be confirmed)
6. january 2010
• Clivages is now available. Released by Cuneiform Records.


Read and listen
• Re-mixing of the second CD «HERESIE» takes place during the first quarter of 2010. To be released in September 2010 .

• Daniel Denis works on the re-orchestration of 8 of his pieces composed for UNIVERS ZERO (period 1977 to 2004) for the Lethonia classical orchestra «SINFONIETTA RIGA». Two concerts will take place during Oktober 2010 in Riga (New musical Festival) and this was requested by their artistic Director: Normunds SNE.
8. october 2009
Photos of Univers Zero from the Rock In Opposition France Event, 20th of september 2009
Photos of Univers Zero + Present from the Rock In Opposition France Event, 20th of september 2009


18. september 2009
• Clivages is ready and will be released in early January 2010 by Cuneiform Records.


Read and listen more

February 2009
• Andy Kirk is back and Univers Zéro will be performing as a two- keyboards band from now on.
• We are planning to start to record our new CD, Clivages, in May.
• Several gigs are schedule for 2009 already

• An Italian booking agency has agreed to work for some dates around the in the beginning of the next year. If you are in Italy and want
to have Univers Zero at your venue, please contact:
Syncretic Srl.
Viale dei Quattro Venti, 166 - 00152 Roma (Italia)
(Loredana Miarelli)
tél: 347/9018466
lorimia@hotmail.it
• Our friend Jaak Geebelen shot some marvelous photos from our last concert in Nivelles. take a look at them in the link below. Some of them are widespread in our site as well.
http://jaak56.myphotoalbum.com/view_album.php?set_albumName=album180&page=1

• 18.12.08 - The archive CD Relaps is available for ordering here: www.waysidemusic.com
Read & Listen here

• "Petit laboratoire" #1-3 (2007) : Mergenthaler/Denis:

http://www.youtube.com/watch?v=zQIvzx9hAlI

http://www.youtube.com/watch?v=VXVRhdMUJ3c

http://www.youtube.com/watch?v=Cp8IiFYDCMY

• Some photos: 2008-11-15 Univers Zero au Triton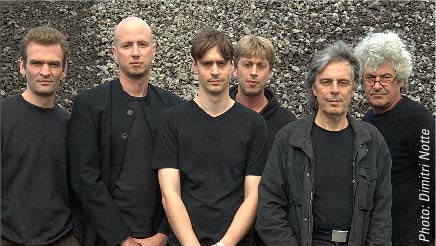 • Univers Zero has a new bass player, Dimitri Evers.
• The archive CD Relaps is ready. Mixing and mastering are finished. The sound is very
good and we are working on biography notes, artwork and photos. It will
be out on Cuneiform records next January (2009).
• Recently we have taken the hard decision to continue without Andy Kirk. Besides his good humanity side and his great musicianship, he was quite unavailable for demand that band needs now, due to his duties with his new job. Also, the directions, envisaged by Andy for
UZ´s future, were not shared by the others members of the band. We wish him the best of luck in his new endeavor. We will try to have Andy enhancing Univers Zero at Le Triton, next October, for DVD
recording. He will seat in to play Warrior and Funeral Plain.

We are very excited to announce that the keyboard seat will
be filled by Pierre Chevalier, which was invited to play with Univers
Zero in 1999, in a line up that never really existed. Pierre is
keyboard player of Present and he will be the right guy to play our
music.

Daniel Denis


Univers Zéro will also be playing at RIO Festival 2009
More about this soon!
• Finally an archive CD is coming with live recordings from 1984,
1985 and 1986. UNIVERS ZERO- ARCHIVES 1984/85/86 (NO NAME YET)
It is coming out on Cuneiform Records and will be
available (probably) early 2009

The set list is:

from March 31st, 1984 at « The Pavillon » in Hannover, Germany
L'ETRANGE MIXTURE DU DOCTEUR SCHWARTZ (Daniel Denis)
PRESAGE (Daniel Denis)
PARADE (Daniel Denis)
from October 9th, 1985 at the «Centre culturel de Seraing », Belgium
THE FUNERAL PLAIN (Andy Kirk)
HEATWAVE (Andy Kirk)
L'ETRANGE MIXTURE DU DOCTEUR SCHWARTZ (Free version) (Daniel Denis)*
from February 7th, 1986 at the « Frankfurt Jazz Festival », Germany
EMANATIONS (Daniel Denis)
and a never recorded piece .....from February 25th, 1984 in
Dottignies, Belgium
LIGNE CLAIRE (Daniel Denis)

Booklet with new photos and liner notes by Aymeric Leroy an


•Re-release: The new edition of Univers Zéro 1st Lp (aka 1313) is out May 13, 2008.
1. July 2007

• 1313 will be remastered and reissued with bonus tracks.

• New album will be recorded at the end of year 2007. Possible title: Clivages.


9. April 2007

• Photos and comments by Frédéric Loridant on show of March 25 at the "SPIRIT OF 66": http://www.photorock.com

• UZ now on myspace: http://www.myspace.com/universzero


28. December 2006

• The band Metropolis with Daniel Denis's son Nicolas, will be support act at the venue 'SPIRIT OF 66' on March the 25th 2007. It will be their first appearance on stage. Nicolas DENIS (Drums) Julien FULCO (guitare) Jérôme ROOSA (basse)

25. December 2006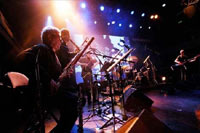 • Karel Šuster took these great photos at a very successful UZ-concert in Pokladna Divadla Archa, Praha, Czech Republic, 1. December 2006: http://www.fotografuje.cz/link/Alt06/01.12.06/index.php?no=12


1. October 2006

• The Contemporary Ensemble "Ensemble Polychronies" from Toulon (France) requested Daniel Denis to write a musical piece for them to play. The premiere is scheduled for April 7, 2007, in Toulon, France.
The tune is called "L'Ogre et ses Appâts" and it will happen at "Musée d'Art". It is a piece for two keyboards players/two percusionists players/ violin and acoustic guitar

• Univers Zéro is going in the studio in the summer 2007 for recording sessions of the new CD.
It will possibly be released on january 2008 on Cuneiform Records. The new CD will bring compositions by Andy Kirk, Michel Berckmans, Eric Plantain, Kurt Bude, and Daniel Denis (of course).

3. January 2006

• The new album 'Univers Zero Live' will be available from www.waysidemusic.com 14. January. More information about the album here .
Buy the album here: http://www.waysidemusic.com/

24. October 2005

• Three mp3-excerpts from the coming live album here and more coming concertdates listed at the Coming Concerts page (look also in the navigation menu to the left).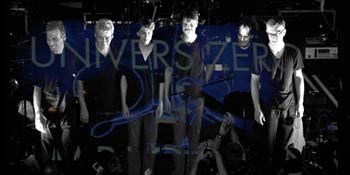 2. September 2005

• Info about the coming live album is online (Discography - bottom).
(available from Cuneiform records, January 2006)


18. august 2005

• Interview with Daniel Denis from 2000, but published now in the Interview section


12. July 2005

• Univers Zero recorded both shows in June, at Les Tritonales and at Les Halles de Schaerbeek. A live CD will come out from these two performances. Mixing sessions start in August and the new CD should be probably out in January or May, on Cuneiform Records.

• Univers Zero needs a booking agent. If you are in Europe and think you can help, contact Daniel Denis at
universzerocontact@yahoo.com


11. may 2005

• Peter VANDENBERGHE has a huge amount of commitments for late this year and won't be able to fulfill his place on keyboards on UZ and he is being replaced for the next 2005 season (after September), but he will be welcome back whenever possible for him.

• Andy KIRK will be the new keyboard player; UZ will possibly perform Warrior (Andy Kirk´s lost composition for UZ – an amazing follow up of Combat).

• Daniel is also planning to have a parallel acoustic version of UZ, only acoustic instruments (but bass), with Peter instead of Andy on piano, no drum kit, just percussion.

• Cover of a limited 2005 edition of Heresie (13 copies made), signed by Daniel Denis and Philippe Seynaeve. The Heresie page.

• New Video for download: Philippe Seynaeve have created a video for the tune 'Partch's X-Ray' (from Implosion 2004).
Go to the download page.

• This page got a small movie created by Philippe Seynaeve. It's based on a UZ-concertposter from 1982, which you in a while can find via the gallerypage.

• In September, 2005
ART ZOYD and Musiques Nouvelles are releasing the "EXPERIENCE DE VOL Nr. 4/ 5 and 6" (triple CD) including Daniel Denis's composition "Shanghaï Revisited Talks".

---