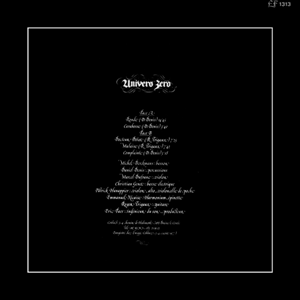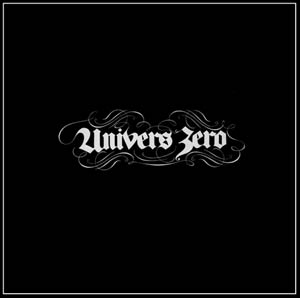 Univers Zéro (later renamed as 1313) - 1977 (front & back of first issue)

2 - Carabosse (3:40) – DENIS
3 - Docteur Petiot (7:25) – TRIGAUX
4 - Malaise (7:42) – TRIGAUX
5 - Complainte (3:18) – DENIS
* 6. La Faulx (28.07) Bonus Live track on the 2008 Re-issue (remixed and mastered by Didier de Roos)
LINE-UP
Michel Berckmans – bassoon
Daniel Denis – percussion
Marcel Dufrane – violin
Christian Genet – bass
Patrick Hanappier – violin, viola, pocket cello
Emmanuel Nicaise – harmonium, spinet
Roger Trigaux – guitar
Recorded by Eric FAES at Luiggi COHHU Studio - Belgium - August 2-4, 1977
Mixed by Daniel DENIS, Christin GENET & Roland HERRERO at Team For Action Studios - March 1984
CD Cover Design by Paula MILLET
This record was originally released in 1977 and named 'Univers Zéro'. It was re-released with this name by subsequent ATEM Magazine, in 1978. Later it was remixed, renamed as 1313, and was re-released by Cryonic (in 1984) and by Cuneiform Records, as Lp and CD (in 1989).The original serial number of the independent pressing made by Eric Faes and UZ was EF 1313, and part of this serial number that was used as its subsequent name.
The album was remixed and mastered by Didier de Roos (2007) and a added bonus live track 'La Faulx' (Cuneiform records 2008).




Eric Faes logo


Atem logo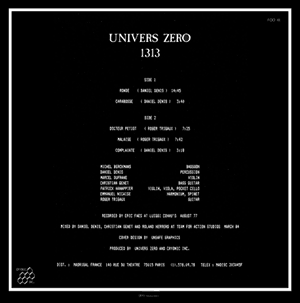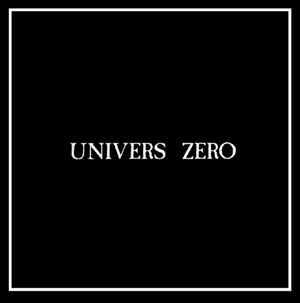 1313 Cryonic edition cover (front & back)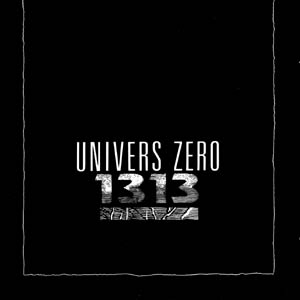 Later issue from Cuneiform records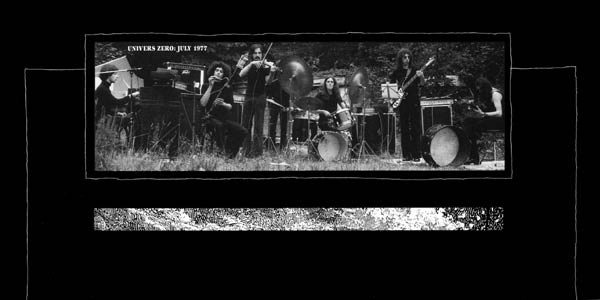 A detail from the inlay of the Cuneiform release - click for a larger picture.

1313 - Vinyl re-release (2023).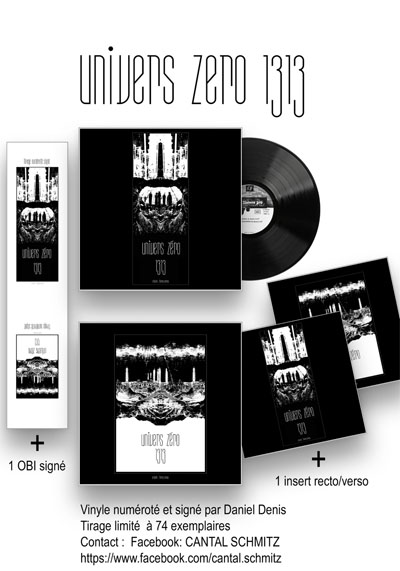 Christian Genet has kindly provided www.Univers-Zero.com some photos from the recording session. Larger versions can be seen on his facebook.
| | |
| --- | --- |
| Michael Berckmans | Daniel Denis |
| Daniel Denis | Daniel Denis |
| Marcel Dufrane | Marcel Dufrane |
| Marcel Dufrane & Patrick Hanappier | Eric Faes |
| Eric FAES & Emmanuel Nicaise | Luiggi Cohhu |
| Emmanuel Nicaise | Emmanuel Nicaise & Marcel Dufrane |
| Roger Trigaux | Roger Trigaux |
| Roger Trigaux | Roger Trigaux & Emmanuel Nicaise |
| Eric Faes, Emmanuel Nicaise, Michel Berckmanns, Christian Genet | Marcel Dufrane & Patrick Hanappier |
| | |