1313 (Reissue 2008)



Heresie – Remix 2010
Cuneiform 2010
Rune 313
This album features: Michel Berckmans [oboe, bassoon], Daniel Denis [drums, percussion], Patrick Hanappier [violin, viola], Guy Segers [bass, vocals], Roger Trigaux [guitar, piano, organ, harmonium]
Univers Zero reissue still leaves sonic scars:
By Michael Popke
"Heresie" – the album that solidified Belgium's Univers Zero as purveyors of menacing avant-garde music – was released in 1979 by a band that confined one member to a wheelchair strictly for dramatic effect. By crashing oboe, violin, bassoon and harmonium with guitar, drums and bass, Univers Zero made dense, brooding and apocalyptic music that its members claimed was influenced by serial killers. They titled one of three songs here "Jack the Ripper" and described their sound as "funeral marches." More than three decades later, that description holds up. "Heresie" is anchored by "La Faulx," 25 minutes of creepy, slow-building terror. Processed voices speaking in tongues, seemingly from beyond the grave, sound absolutely frightening, thanks to a new remix from the original master tapes that breathes greater clarity into "Heresie" than any previous reissue. A bonus track, "Chaos Hermitique," dates back to 1975 and is nearly as unsettling as the rest of this album. New artwork featuring elements from the original packaging and past reissues completes this definitive version of a record that still leaves sonic scars.
http://www.goldminemag.com/reviews/univers-zero-reissue-still-leaves-sonic-scars
Rock Progressivo de todo el Mundo (BLOG):
Definitivamente Univers Zero no es un grupo que necesite presentación alguna en este blog, como tampoco lo necesita una de sus obras maestras, Heresie. Ya tratamos de reseñar este disco en su edición original hace bastante tiempo, así que me limito a hablar de la novedad: el track Chaos Hermetique. Este tema encaja perfectamente con las oscuras intenciones y el fúnebre aspecto general del disco, pero revela otra faceta de los belgas, su subsistema eléctrico. Para algunos, esto es como escuchar a un Present temprano, más que a un Univers Zero experimentando. Si escuchamos con cuidado, nos damos cuenta que son los mejores 11 minutos con 52 segundos que hemos aprovechado en el día. El teclado es de ultratumba, hasta me recuerda a lo que posteriormente haría Andy Kirk, la guitarra ataca con igual furia cuando se presta la ocasión y se lleva una estructura tan compleja y tan pulida que pareciera que este tema es parte de las mismas sesiones en que grabaron el resto de esta gema de la música inversa. Pero otro elemento a destacar es la muy cuidada instrumentación, el violín entra justo donde debe entrar y Denis y Trigaux pasan fluidamente de la aceleración a la desaceleración. Creo que esta de más advertir que deben irse con cuidado con este disco, ya de antemano saben lo que hay aquí, así que disfruten de esta enfermiza remasterización y comparen con la versión original. Yo no he tenido el suficiente tiempo como para encontrar todas las diferencias.
http://progmundo.blogspot.com/2010/11/universzeroheresie-2010-remix-remaster.html
Dusted Reviews:
When Belgian Rock in Opposition stalwarts Univers Zero concluded the Sonic Circuits Festival in Washington D.C. on Sept. 25, 2010, it was a very different band than the one heard on this 1979 album. What both lineups have in common is drummer Daniel Denis — one of the finest drummers operating in the avant-garde. His elastic sense of time is stunning, but he never looses sight of the pulse that drives most Univers Zero compositions. Denis is also a fine composer, and if his compositional prowess needed a single affirmation, it would be "La Faulx" from Heresie. It was recorded in the middle of 1979, just before guitarist Roger Trigaux left the band to found Present. This reissue sports a bonus track taped in 1975, and if that were the only new feature, hard-core Zero fans would need to hear it. However, as with the rerelease of 1313 a few years ago, Heresie's been given a radical remix.
Anything written about the album contains adjectives like "dark" and "brooding." Denis' "La Faulx," clocking in at 25 minutes, is largely responsible for setting the mood with its shuddering moans, gruff incantations and otherworldly growls. All of these ingredients are presented with a new clarity and depth. Where the first seven minutes of the original CD issue immersed the listener in a miasma of harmonium, backwards cymbals and eerie declamations coming over some extraterrestrial public address system, now the immediacy is positively frightening. Guy Segers' bass has been boosted and deepened beyond easy description, and it has now been unified with Denis' drums at critical moments, rendering each part more readily audible while unifying the whole texture. The alien rasps that close out the first section are newly effected to detach them further from reality. The album proper's other tracks have been treated with similar care; according to the booklet, certain blemishes could now be removed in a way that was financially and technically impossible in 1979.
The new reissue's other revelation is "Chaos Hermetique," a 12-minute Trigaux piece recorded by a slightly different lineup four years earlier. The 1975 Zero sound is much more electric than on 1313 or Heresie, Denis' rock drumming driving a mélange of synthesizers, electric guitars, organ and violin. Michel Berckmans' bassoon, a hallmark of the early Zero sound, is notably absent. The tune is pointillist and punchy in a way that would typify Present's work for the next 30 years.
By Marc Medwin http://www.dustedmagazine.com/reviews/5999

SEA of TRANQUILITY:

Heresie...it's an album, originally released in 1979 and long considered one of the albums that spearheaded the whole Rock in Opposition (RIO) movement, that still contains some of the most ominous and frightening sounds ever recorded, over 30 years since being thrust on the scene by its creator, Belgian band Univers Zero. Here in 2010, this chilling collection of songs that play like 'the sountrack to the apocalypse' has been remixed and remastered for your listening pleasure by Didier de Roos and reissued on Cuneiform Records.
Those who know Heresie well will be happy to know that the album has been given new life here, as the songs are even more menacing and powerful than before. For the few who might have never experienced Heresie previously, you are in for a treat. This happened to be the bands second album, and the line-up consisted of Michel Berckmans (oboe/bassoon), Daniel Denis (drums/percussion), Patrick Hanappier (violin/viola), Guy Segers (bass/voice), and Roger Trigaux (guitar/piano/organ/harmonium), with Vincent Motoulle on keyboards on the bonus track; more about that later.
The 25-minute "La Faulx" kicks things off in truly terrifying fashion, as Univers Zero weave an ominous instrumental tale here on this one, complete with foreboding passages that go from tranquil to bombastic, never once letting any of the musicians launch into solo mode. Frankly, the band do such as great job of weaving dark melodies and hitting fascinating crescendos, there's no reason or room for a solo of any kind. "Jack the Ripper" follows, and again, be prepared to be moved by the sheer drama that this music unfolds, as nightmarish melodies coming from the oboe, violin, basoon, and keyboards tell the story of one of the worlds most notorious serial killers as he silently prowls about London's dark streets in search of prey. The Trigaux piece "Vous Le Saurez En Temps Voulu" is a frightening rock meets classical number ('chamber rock' if you will) that again lets the oboe & bassoon from Berckmans really stand out and tell the story. As a bonus, you also get a very early version of "Chaos Hermetique", remastered from an old audio cassette copy, which adds Motoulle on keyboards to allow Trigaux to focus on guitar. The results are more 'rock' oriented, and the band has an almost King Crimson edge on this one. Trigaux would shortly leave the band to form Present, and this track would later become a regular part of their repertoire.
Cuneiform have done a great job as always with the packaging on this reissue, as you get a thick booklet with a nice essay about the album & time period in the bands history, plus a few of the chilling B&W photos from the album. It's all housed in a charming digipack, complete with additional artwork & vintage live photos. If you want the perfect snapshot of what the early RIO movement was all about, you've come to the right place. http://www.seaoftranquility.org/reviews.php?op=showcontent&id=10005
Reviewer: Pete Pardo
Score:







CLIVAGES
Cuneiform 2010
Rune 295
This album features: Michel Berckmans (bassoon, English horn, oboe), Kurt Budé (clarinet, bass clarinet, alto sax), Pierre Chevalier (keyboards), Daniel Denis (drums, sampler), Dimitri Evers (bass), Martin Lauwers (violin) with guest Andy Kirk (guitar)
"…over the last three decades the ensemble has lived up to the dictionary meaning of avant-garde: those in the arts who create or apply new or experimental ideas and techniques. Clivages…coalesces what has made Univers Zero such a unique and demanding group for the past 30 years but the record also yields new inclinations. For one, compositional responsibility has been split to different band members… This allows for both familiarity and surprise. Denis furnishes four pieces…Michel Berckmans pens three…Kurt Budé wrote two and guest guitarist Andy Kirk – a Univers Zero compatriot from the late seventies and on and off during the eighties – brings in one expansive work. Univers Zero fans…will find Denis' material…gratifying and galvanizing. Opener "Les Kobolds" has an accessible, major-key arrangement… The melodies and tonal colors render a slightly Renaissance feel but harmonic shifts impart an underlying ominous persuasion. … Denis references his previous achievements on the funereal and desolate "Les Cercles d'Horus," with ashen drums, comparative keyboards and bass, and minor-key piano and cello. Berckmans "Vacillements" focuses entirely on wind and strings and has a neo-classical slant… Berckmans' final tune, "Retour de Foire," has a splendidly shadowy arrangement akin to Bernard Hermann… Budé supplies two adventurous compositions. … Like earlier Univers Zero outings, Clivages has a live-in-the-studio approach with minimal overdubs, superb instrument separation, bright EQ and frequency modulation that is impeccable. This is music that has outstanding sound realization, recommended for a high fidelity system."
Doug Simpson, Audiophile Audition, April 23, 2010, www.audaud.com
"I first learned of…Univers Zero when its drummer and founder, Daniel Denis, was featured in MD's February 2010 issue. I was drawn in immediately by Denis' carve-your-own-path aesthetic and the fact that he seemed to give equal weight to composition and spontaneity…. The thing that struck me immediately about UZ's wonderful slow-burning new album, Clivages…is that this is no attempted merger of "polite" chamber instrumentation with "nasty" rock 'n' roll, as so many "let's tack a kit onto an orchestra" projects turn out to be. No, the music is at its very core conceived for a sensitive, versatile unit – a band – that happens to contain a quirky blend of instruments. Clivages prowls the low end with electric bass, bassoon, and Denis's big drum sound. On the storm-bringing "Warrior," Denis works huge tom blasts and cymbal-crash thunder… He's full of surprises throughout and never short of compelling."
Michael Parillo, "What We're Listening To," Modern Drummer: Wire, 4.4, April 2010
"…this is Univers Zero's best record ever since the band's reformation in the mid-'90s. …this one…grabs me and moves me: more troubling, more experimental …with a strong human elements. … Top-rate avant-prog and a great Univers Zero release by any standard. …"
François Couture, Monsieur Delire, January 7, 2010, blog.monsieurdelire.com "
…this is one of their more accessible releases. Don't get me wrong, it's still Univers Zero… it seems to be fairly easy to latch onto melodies and something resembling a hook throughout the disc. I like this a lot and it might have two of my all time favorite Univers Zero tracks on it. Warrior …is a real scorcher and one my favorites of all time from the group. … a more jazz like movement that reminds me of Henry Mancini goes RIO. … Straight Edge … is quite a dynamic and powerful piece of music that has jazz, funk, classical and pure prog all woven into it. There are some cool bits of retro keyboards… This could fit well into a movie soundtrack and despite its strangeness is quite compelling. … This composition is definitely another highlight of the disc, and…qualifies as one of my favorite Univers Zero tracks.
Gary Hill, Music Street Journal, musicstreetjournal.com


UNIVERS ZERO RELAPS-ARCHIVES 1984-1986
CUNEIFORM 2009
Rune 280
This album features: Michel Delory [guitar]. Daniel Denis [drums], Dirck Descheemaeker [soprano sax, clarinet, bass clarinet], Christian Genet [bass], Patrick Hanappier [violin, viola], Andy Kirk [keyboards], André Mergen [cello, alto sax, voice], and Jean-Luc Plouvier [keyboards]
"Reissue: Best of the Week: UNIVERS ZERO - Relaps: Archives 1984 - 1986 (Cuneiform) – …what a collection: selected from four gigs in Germany and Belgium, captured with great quality live sound that does justice to both the five-piece and later seven-piece version of the ensemble. Once again, there's no moment of filler from Univers Zero. A rich stew of beautiful classical instrumentation - clarinets and sax, violin, cello and viola - with keyboards and rock bass and drums, each complex, driving composition is alive with dangerous energy and crackling tension from beginning to end. They're the seething antidote to the twee and complacent in rock/classical crossover, the Stravinsky- and Ligeti- influenced blast of reality that makes even King Crimson sound like Andrew Lloyd Webber. Other avant-rock bands dabble in dark, 20th-century passages: Univers Zero dive right in, exploring danger and menace and foreboding in all possible nuances...These recordings catch Univers Zero with powers at full-strength - and fascinatingly, at a terrible time to be making this music, trapped in the shallows of the early 80s, soaring over the heads of the European music industry, …These concerts have Univers Zero playing later compositions that have moved on from the more acoustic, often early-music, medieval sound of their first album, with more keyboards and greater use of rock drum-kit. …It all comes to a shattering climax on 'The Funeral Plain', a work that from quiet beginnings builds and builds layers of fear... its utterly relentless, a soundtrack to induce predator-prey nightmares…that drives on to a quite unique sonic apocalypse. …Two years later…they split. Thank goodness…Cuneiform…continued to believe in the band, releasing back catalogue until a generation of listeners were ready for them. Univers Zero was reformed by Denis just before the new millennium… They're one of the great unsung rock bands of the last 30 years, and good enough to earn hesitant respect from the contemporary-classical world too. With its near studio sound and stupendous energy, 'Relaps' is as good a place to start with Univers Zero as their classic debut."
Sean, Organ [UK] #298, March 13, 2009, www.organart.demon.co.uk
"Quite the revelation here, Cuneiform Records offering up vintage live Univers Zero from the years 1984-1986… It's always amazing how dark, brooding, and often times heavy this 'RIO/chamber rock' institution can get, most of the time utilizing acoustic instruments… …the world of Univers Zero… is often times unsettling, chaotic, and ominous music, yet there lies a uncurrent of extreme beauty… The dueling sax and cello outbursts on the extended "Presage" are mindblowing…the band hits you almost as a doom metal band would, tunes like "Emanations", the classic "Heatwave", and "The Funeral Plain" rampages through your speakers with the power of heavy rock, yet with the deft touch of classical or jazz. The version of "Heatwave" here is one of the most startling slices of avant-prog you will ever let your ears feast on, jagged shards of guitar, booming bass, squawking sax, layers of keyboards, soaring violon, and bombastic drum patterns all fighting for supremacy yet the overall effect is grandiose and majestic. This is amazing stuff, more proof of just how unique and powerful this Belgian band always was, and still is for that matter. If you have a penchant for archival live prog recordings, make sure you add this one to your 'must have' list."
Pete Pardo, Sea of Tranquility, www.seaoftranquility.org
"…in 1984 and 1987, the Belgian ensemble Univers Zero released two albums that were among the best of an avant-garde scene that defied the cheesiness of the ['80s] era. Uzed and Heatwave explored electro-acoustic chamber music, with bandleader and primary composer Daniel Denis combining Bartok-ian gloom with dissonant guitar solos and insistent rhythms. Relaps…is the only live document of Univers Zero's Uzed/Heatwave period…the quality and intensity of the performances…indicate a remarkably practiced band. …all of Denis' pieces from Uzed are included on the disc, along with the two major compositions from Heatwave, both…written by…keyboardist, Andy Kirk. While the studio recordings were marred by…dated production, the sound here is excellent-or at least as good a can be expected from 20-year-old tapes. …The harrowing "Emanations" vacillates between quiet, stark passages and a dark intensity evident in the brief, clawing guitar solo that brings the piece to an epic and somber conclusion. "The Funeral Plain," a sprawling 20-minute composition is the centerpiece of Relaps. …The last few minutes…consist of an enthralling buildup, as a violin and clarinet share a propulsive theme, over which Michel Delory spews molten, Hendrix-like spasms of electric guitar. …Denis is clearly in control throughout, his stickwork too complex to scan neatly as rock drumming or classical percussion. It's a good reminder that Univers Zero was ahead of its time, even if it was (and remains) lost between serious and popular music."
Brandon Wu, Washington City Paper, v. 29. n.4, Jan. 23-29, 2009
"Even some 30 odd years after it first came into existence, Belgian band Univers Zero sounds as though it's intent upon a soundtrack for the last days of the earth, or at least the last days of human life upon it. … the live setting ensures the performances are even more malignantly visceral than they usually are. It's often…that composers such as Ligeti are cited as influences or touchstones…but… Henry Cow and Van Der Graaf Generator are equally pertinent…both…fashioned music that stays within the rock idiom even while appearing to have little time for such genre trappings. All three bands have also utilized highly formal structures……this is a band with a different aesthetic agenda… The notion of dark fun might just about cover it, but even that does scant justice to such a singular band."
Nic Jones, All About Jazz, April 27, 2009, www.allaboutjazz.com
"…Relaps is an essential piece of work showing that the band's most exceptional moments were indeed live. Roughly the disc is made of two main chunks of three tracks… The first … includes mostly tracks from my fave album of theirs: Uzed……the last chunk comes…mostly from the future Heatwave album with …the 9- mins Heatwave and the 18-mins Funeral Plain are both outstanding versions… Great stuff!!" –
Sean Trane, Progarchives.com

"…First up are a pair of performances from a quintet version of UZ …What is so striking about these tracks is the stark difference between this band and the previous version that recorded Ceux du Dehors. This is a much more electric UZ. …more powerful range of dynamics, without changing the overall sophistication and scope of either arranging or playing. The latter version of UZ, recorded in 1985 and 1986…is the ultimate version of UZ in a live context. The contrasting keyboard sounds…offer a much more sinister and menacing quality to the music. The transformation of "Emanations," from the Uzed album, is simply shocking.… For anyone who has been interested in this band, this set is simply indispensable. …well worth investigating."
Thom Jurek, All Music Guide
"…Relaps' most impressive track Relaps is an 18-minute version of Heatwave's "The Funeral Plain" that…builds with the inevitability of a bolero, albeit through a series of movements, towards its relentless and cathartic climax, complete with Michel Delory's screaming guitar and Denis' thundering percussion. The markers of early UZ remain--a confluence of unorthodox instrumentation and classical references --but Relaps leaves little doubt that…Univers Zero of 1984-1986 was more hard-edged and even rockier than it had been in the '70s…"
John Kelman, All About Jazz, www.allaboutjazz.com
Subtitled "Archives 1984-1986", this disc …contains live performances by the angriest incarnations – the 1984 quintet and the 1985-86 septet - of Daniel Denis' creature, one of the defining entities of Rock In Opposition... The material, mastered from clear enough archival tapes, comprises exciting renditions of classics such as "Présage" and "The Funeral Plain", pieces delivered with a mixture of high-level technical proficiency, exquisite classical sensitiveness and…scarcely repressed fury…I feel older by the minute, yet the goosebumps that came up during some of these executions, most notably in the fantastic rhythmic unassailability of "Heatwave" (the tune), are the same of a couple of decades ago. What a group. And they're still here… "
Michel Ricci, Temporary Fault, June 28, 2009, temporaryfault.blogspot.com
"I am ashamed to say that I came close to living out my entire life without ever hearing of them (oh how I love you, Cuneiform Records! Let me count the ways in 13/16th timing). Honestly, this is the holy grail of bent prog: pianos, violin, brass/woodwinds, guitar, kitchen sink, sultry lower back of orgasmic woman (pretty sure that's in there). Play with Birdsongs of the Mesozoic and the names I just dropped, or even Bitches Brew Miles Davis or John McLaughlin's 'Vishnu Orch or goddamned Black Flag or .... Damn good smoking stuff!!! Recorded live to beat all too. Dang!.... All tracks great, seriously."
Your Imaginary Friend, ZooKeeper online, KZSU Radio , 2009-04-06, zookeeper.stanford.edu
"…70 minutes of intense live rock in opposition. … Imagine chamber music given a healthy injection of ominous overtones and a progressive boost- and you have an idea of what Univers Zero sound like. … For all these darkside tendencies, there is a definite ebullience to the music. While menace is overtly present, the tunes celebrate a sense of intensity devoted to life… The compositions are intricate and cerebral…surging passages that…undergo rapid signature changes. A constant level of intensity…even the lulls are drenched with dramatic anticipation…."
Matt Howarth, Sonic Curiosity, www.soniccuriosity.com
"… This eight-track collection culls…live performances from the mid-1980s, recorded…at four European shows. They emphasize the "rock" in "chamber rock" while stretching the sonic definitions of keyboards, violin, clarinet, oboe, bassoon, English horn and sax with the traditional electric bass/guitar/drum combo."
Michale Popke, Goldmine, April 10, 2009, www.goldminemag.com


LIVE (2006)

"the sextet's horns-strings-keys-rhythms makeup is largely about melodic overtones coupled with driving pulses and complex time signatures. The sextet blends a radical approach to familiar progressive-rock musings with horns and strings that occasionally drive the rhythmic pulses with booming unison lines." From all about jazz, by Glenn Astarita, March 2006.
http://www.allaboutjazz.com/php/article.php?id=20888

"In fact, the two groups (UZ and Gentle Giant) share much in common, despite the different instrumentation and the fact that Univers Zero's music is untarnished by the commercial aspirations that ultimately led to Giant's demise. With roots in classical music from multiple eras, often driven by a propulsive rhythm section, Univers Zero manages to make the obscure somehow strangely palatable, and even when the solos lean to the extreme, as they do on "Kermesse Atomique," there's a certain undeniable accessibility. Of course, Denis' music presents its own form of challenge. But rather than alienate, Univers Zero draws the listener in, making Live a terrific place to start for those new to this truly progressive Belgian ensemble." from all about jazz site, by John Kelman, February 25, 2006
http://www.allaboutjazz.com/php/article.php?id=20798

"Most compositions breathe a sinister atmosphere. But on the other hand the music is also uplifting and positive. The pregnant compositions follow a strong inner logic. Leaning on the drums of Denis the musicians produce an accessible kind of rock albeit uncommon. Music that is still relevant after all those years, full of (funny) surprises like the bolero-motive Budé plays in track three. ……But for those who cannot visit their concerts let this new CD be a proof that Univers Zero still is a very hot band!" From VITAL WEEKLY, - number518 – week 12 – The Netherlands, by DOLF MULDER
http://www.vitalweekly.net/518.html

"Oggi, nel presente 2006, è la volta del primo disco dal vivo, ed il risultato è ovviamente stupefacente. Il meglio di titoli gloriosi, tratti dal passato più recente, come "Implosion" o "The hard quest", sia da quello remoto di "Ceux du dehors" e del cupissimo "Crawling wind", con l'aggiunta di una track dal solo-album del leader Denis, quel "Les eaux troubles" che vide la luce nel '91. Musica oscura, a tratti ossessiva, opprimente, ma capace d'aprirsi ad improvvise variazioni, come il cielo primaverile, un attimo prima gravato di obscuri nembi, poi improvvisamente squarciato da raggi di sole che via via s'allargano, innondando di dorato chiarore la campagna umida di pioggia." Versacrum, by Hadrianus, March 2006
http://www.versacrum.com/musica/recensioni/rec200603/

"La formazione a sei di quest'album, il primo in assoluto dal vivo di una lunga e operosa carriera, è una novità anche per i seguaci più accaniti: tastiere e pianoforte, basso elettrico, batteria, oboe, clarinetto e viola lavorano bene a un perfetto bilanciamento di influenze rock e classiche che a molto a che spartire con la musica da camera. Univers Zero miscela complessità e realismo e l'esecuzione è potente, determinata. Soldi spesi bene, insomma, se la ricerca è il vostro forte!!" In Il popolo Del Blues On Line, by Ernesto de Pascale, April, 2006
http://www.ilpopolodelblues.com/rev/aprile06/recensioni/Univers-Zero.html
"Univers Zero's importance in the history of modern chamber music is once again confirmed by this, one of their overall best albums that makes us hopeful in an even more productive, truly "progressive" longevity." From Touching Extremes, by Massimo, April, 2006.
www.touchingextremes.org
"The style of Univers Zero, bold and avantgarde as it is, is situated on a strange border between psychedelic Rock and the darkest areas of Classical Music. "Live" is a magnificient sample of this surprising style." From Amazings Sounds, by ALEJANDRO HINOJOSA
http://www.amazings.com/reviews2006.html
"This disc shows that the band is a force to be reckoned with in the live venue. While you won't find a lot of traditional rock instruments, these guys create their music sans vocals and sans guitar. The end result is a dynamic blend of jazz, classical and rock music that takes a while to fully permeate the listener's mind, but when it does, it's a real winner." From Music Street Journal, by Gary Hill, April 2006. There is also a track by track review and interview with Daniel Denis, check it out!
http://www.musicstreetjournal.com
review at Prog-nose (in Flemish)
http://www.prog-nose.org/nederlands/albums_2006/univers_zero_live.htm
review at Caleidoscoop, by Jan Willem Broek (in Dutch)
http://www.subjectivisten.org/caleidoscoop/archief/002182.php
"If you didn't know better, you would swear that this was a perfectly crafted studio album that took years to record. Nope. This is as good as it gets folks, a live album from six superb musicians, playing music that is so far removed from mainstream culture, yet so accessible and enjoyable to anyone willing to give their complex yet rich style a chance. Highly, highly recommended!"
From Sea of Tranquility, by Pete Pardo, February 17th 2006
http://www.seaoftranquility.org/reviews.php?op=showcontent&id=3292

"….this new live disc is simply the most revitalizing rejuvenating UZ experience I've had in years. While much of the material on Live is culled from recent efforts, the energy level is kept high, making me rethink my opinions of the newer Denis compositions. However, the disc ends, surprisingly, with a look back at "Toujours Plus a L'est" from the once-rare EP Crawling Wind. The new lineup's incorporated a gorgeously expansive chamber improv just before the piece rips back into the final gear, and the contrast is mesmerizing and thrilling."
From Dusted mMgazine, by Marc Medwin, Feb. 13, 2006
http://www.dustedmagazine.com/reviews/2683
"Univers Zero is way beyond that. They play all original music which partakes of Pink Floyd-type spacey rock, avant new music techniques, soundtrack scores and fusion jazz, among other things. The instrumentation looks like a modern chamber music ensemble, and that might be responsible for the semi-classical label"
From Audiophile Audition, by John Henry, February, 2006.
http://www.audaud.com/article.php?ArticleID=1167

"Univers Zero sound particularly inspired and — dare it be suggested for a band that has dwelled on the dark side for so long — even optimistic. Live is an indispensable release for anyone who believes that "Bartók" and "rock" can fit comfortably in the same sentence"
From All Music Guide, by Dave Lynch, 2006
http://www.allmusic.com/cg/amg.dll?p=amg&sql=10:6s57gjir66iv~T1
Considered by LeLibre.be – the best CD of the week
"L'esprit du jazz mais aussi des musiques traditionnelles plane sur Univers Zero, qui donne ici, avec enthousiasme, la mesure de ses immenses possibilités." From Lalibre.be, by DS, January 11, 2006.



IMPLOSION (2004) CUNEIFORM Rune XXX

Lineup:
Daniel Denis (sampling and synth keyboards from drummer ) Eric Plantain (electric bass); Michel Berckmans (oboe, English horn, bassoon); Dirk Descheemaeker (clarinet)
"…Univers Zero returns almost entirely to their acoustic roots …with a refined and tempered equivalent of the relentless, prolonged gloom of early releases such as 1313 and Heresie. Pieces are shorter and more varied, with some taking the form of almost jaunty medieval dances. ….the group's chamber music instrumentation (saxophones, cello, trumpet, marimba and violin), together with Denis' intricate writing and the very tight ensemble work, is enough to deliver the signature Univers Zero sound. Overt but short gothic/industrial elements, with titles such as "Suintement (Oozing),"…serve as bridges between songs and maintain the haunting, sinister edge that initially established the group's reputation. These five pieces…display Denis' skillful use of sampler technology; the muted clanging, scraping, dripping, rumbling and squealing seems to emerge from obscure mechanical devices of unknown construction and purpose. A longer piece, "Partch's X-Ray"…uses metallic-sounding tuned percussion, insectoid twittering from the strings and a rhythmic crow-like cawing to create a deliciously malevolent atmosphere. …"La Mort de Sophocle (Sophocle's Death)," which employs mournful legato strings and percussive crashes to promote a feeling of oppressive gravity. The long closing piece, "Meandres (Meanderings)," also has some of the stabbing dissonance of early Univers Zero…although a middle section shows uncharacteristic restraint. …Other pieces …demonstrate Univers Zero's strong connection to medieval court music (…both melancholy and powerfully rhythmic). … Univers Zero's excellence lies in its continuing ability to synthesize medieval forms, instrumental prog rock and modern classical dissonance with a splash of jazz and a taste for the suggestively macabre. The group continues to produce creative, highly inventive music, and plays it with precision and panache. Highly recommended for the adventurous listener. Rating: 4/5"
– Bill Tilland, All Music Guide, www.allmusic.com
This latest release from Belgium's masters of the avant-garde, Univers Zero, is somewhat of a departure for the band. Veering slightly from their dark and foreboding sound …the band seems to have "brightened" a bit, incorporating a symphonic flair, as well as a few jazzy elements, to their normally moody repertoire. This will surely please many, as the results on Implosion are a bit more accessible …yet the music still retains much of what the hardcore Univers Zero audience likes to hear.
A perfect example of this new sound can be heard on "Falling Rain Dance", a bouncy jig led by the melodic violin playing of Igor Semenoff and the exploratory oboe passages from Michel Berckmans. Here, you can almost compare the band to famed world fusion ensemble Oregon, with all the wispy acoustic instruments and … percussion. It's a stark contrast to the ominous "Partch's X-Ray" that follows… there's also a bunch of dark & moody pieces here … like the death march drone of "La Mort de Sophocle (Sophocle's Death)",…and …the dark and complex "Mellotronic." … Along the way there are a few creepy and twisted pieces that serve as quick segues to other songs, all classic sounding Univers Zero, but the longest cut is saved for last, the near 10-minute "Meandres." …The pace is fairly quick, sort of like a union of jazz and classical styles, until the cello, violin, and piano slow things down and create an unnerving tension that totally changes the atmosphere of the piece into a dark and foreboding soundtrack to some creepy horror movie. No doubt, Univers Zero at their finest.
Implosion is a highly enjoyable and mature work from these master musicians, and a true progression of sorts for the band. … the experimenting… really works here, and listeners who have found the band's music to be dense in the past may not feel that way with this release. Highly recommended! Score: 4/1/2 stars"
- Pete Pardo, Sea Of Tranquility, www.seaoftranquility.org, June 21st 2004
"Tracking this band's progress in the present is a lot more interesting than dwelling on their past. That's not to minimize the accomplishments of their classic period from the 70s and 80s; those where some fine recordings that broke a lot of new ground, but with the last three – Hard Quest, Rhythmix, and now Implosion, they have opened up their sound and absorbed a vast array of new elements, while still retaining their signature style. The sixteen pieces on Implosion alternate between…more conventional sounding UZ compositions (…chamber ensemble mixed with rock band), and more experimental vignettes …the UZ sound mixed with ambient and industrial improvisational elements; its this latter aspect that clearly sets this disc apart from its predecessor, and confirms that the band is not content to just repeat the past. …"Meandres" brings al the elements together…in one satisfying super-sized composition… In all, another major step forward for Univers Zero."
– Peter Thelen, roundtable review, Exposé, #30, September 2004
"If there's a group on our planet who constantly roams dark territories, it must be Univers Zero… They are a group which has transferred music from medieval times to our modern age, and also one of few bands who can still amaze their admirers with each new effort. Implosion is still dark and has more domination of synths than usual. …less complex, but music that…can transport you to a strange environment. …I detect here a shift towards more industrial electronic in the electronic intermezzos. …highlights are "Falling Rain Dance" and "Rapt D'abdallah" which have moment of sheer brilliance.. And in "La Mort de Sophocle" Aurelia Boven plays the cello almost with the intensity of a string quartet from Bartok. This is music which you have to dive into, to feel...the strange ambiance."
– Roel Steverink, roundtable review, Exposé, #30, September 2004
"The ongoing musical adventures of Daniel Denis continue forward into new territory with Implosion… As always, the arrangements are stark, violent and imagistic with an emphasis on conflicting themes blended by the master composer, arranger and bandleader. From the striking of the initial percussion and clattering mechanics of the opening cut, "Suintement" it implies something evil emanating from an unforeseen source. …the short segue track "Ectoplasme" hints at beyond the grave thematic development before switching gears into "Temps Neufs"...one of the catchiest pieces from the band's catalogue. .. the drummer's use of samples is clearly one of the imposing aspects to the CDs overall continuity …it's a more accessible tour de force construct executed flawlessly by this adept ensemble. It's easily one of the top ten recordings and performances for this year."
– Jeff Melton, roundtable review, Exposé, #30, September 2004
"Too bad I did not review this disc before completing my top ten of the year 2004…"
- Jurriaan Hage, Axiom of Choice, 1/2005
"…Today three decades later Denis continues to push the boundaries of music, crafting challenging and yet ultimately satisfying musical compositions.
…Implosion…in many respects continues their relentless quest in creating dark and moody atmospheric pieces that on one hand summon images of gothic horror…and on the other play off spacious, almost funky rhythm… Univers Zero never cease to challenge the listener one moment, startle the next and still exude a satisfying smile at the musicianship. I'm constantly amazed at how deftly Univers Zero are able to insert such wonderfully melodic moments, sometimes medieval, other times classical into such short spaces of time. …They're magicians at utilizing musical space.
The 16 cuts on Implosion consists of mostly shorter compositions, seven of which are under two minutes and form bridges between the eight loner… tracks…. Musically each of the compositions is crafted to take advantage of space allowing the short movements to breath as each takes on a life of its own. …on the final long track "Meandres"…all these elements come together.
Trust me Univers Zero is not for everyone. Their compositional style is very demanding. But…the satisfaction factor can be very high. …I have used Univers Zero as a personal expanding musical appreciation tool. Listening to The Hard Quest and the new Implosion have broadened my musical appreciation skills in ways I could never have imagined. …put on Univers Zero's Implosion."
– Jerry Lucky, Ghostland, www.ghostland.com,. Oct. 12, 2004
"An album where we get visions of darkness from the beginning with glimpses of light all over the place, where we get progression and past. How can Univers Zero implode and then explode their music at the same time? How can they combine in such an accomplished manner the electronic industrial obsessive percussions and the psychedilia of their short atonal interludes… with the shining medieval-neo-classical dances and more progressive compositions and the dark symphonic crescendos… where they explore their so-well known dissonant counterpoint structures? It will remain some sort of a mystery and part of this passion that is discovering each new album. …After exploring electronics and rhythmical architecture I with "Rhythmix" (2002), an album where UZ clearly and successfully submitted compositions to rhythm sketches, Daniel Denis preferred to go the way of tunes and timbres in this new album. Bringing even more woodwinds and metals – all sorts of saxes plus the odd oboe and bassoon…and the trumpet and flugelhorn…added to other acoustic percussives and melodic inputs- marimba and glockenspiel…cello…violin…acoustic guitar…and the electric bass…plus the vintage keyboard sounds – the mellotron is back at least in a sampled meaning, and mixing it all tastefully in weird ensemble with his mentioned electronic experiments… we end with a piece of work which masterfully mixes the classical and the contemporary world, strange yet strangely familiar…another outstanding example of fusion, variety, and sheer dynamics. Is it a synthesis? Yes, absolutely. But there's always that special "extra"… There's always that "soft" complexity, that odd sense of melody we already know since their absolute masterpieces, "Hérese" (1978) and "Ceux du Dehors" (1981). Implosion" is, then, a paradox because… it is, actually, a whole new explosion of music. But…None will be destroyed. Everything is to be de-constructed and rebuilt."
– Luis Loureiro, Prog-PT, www.prog-pt.com, 8/28/2004
"It's really odd to know that Belgian groups like Univers Zero, Present, Cro Magnon and others within the same genre hardly get any attention...in Belgium… Even most musicians don't =know the importance of this group, who in fact formed a standard for the Rock in Opposition styles…. Their first album in 1977 was years ahead of its time, and combined ideas form Bartok with a rock band approach. Often their sound was pretty dark, but albums like '1313', 'Heatwave Zero[sic]'Ceux Du Dehors' and perhaps 'Uzed' are recognized all over the world as being classics in the genre. 'Heresie is their most dark work to date.
This work might be their most accessible to date. The dark elements …sound lighter, subtly modernized…with tiny passages of experimental electro-acoustic ideas. There are some brass arrangements here and there. In general the group is no longer strictly limiting itself within the are they created, but opening it up, perhaps with a bit more…relaxed compositions. …the direction is just new music, with "Meandres" as my favorite track in this style."
– Gerald Van Waes, Progressive Homestead, http://progressive.homestead.com
"This CD…features 49 minutes of dark-side electrified chamber music. …Take a plethora of horns and woodwinds and strings…and put them in shadow- really ominous murk, the kind of shadow that frightens battle-seasoned adults. Add some frenetic percussion, drums that echo from deep pits and various tempos generated far underground. Inject a flurry of spooky sound effects… there's eerie guitar buried in that mix… subterranean bass… Now you've got the basic feel of this music. …Univers Zero exists as a celebration of all that's unsettling and unnerving… a reaffirmation that everything is just an inch away from collapse (or implosion).
Average audiences beware: this music could induce melancholy.…discerning listeners, though, will find the somber tones and terse melodies engaging, even inspiring…those who survive this valley of melodrama will face the world refreshed…
Belgian band Univers Zero has been producing dark-side chamber music for thirty years, and "Implosion" shows that they've not lost their focus or fire."
-Matt Howarth, Sonic Curiosity
"Lots of new directions here: Univers Zero have opened the doors to a more linear, almost elegiac juxtapositions of influences, yet they still hold on to their basic personality. "Implosion" optimizes the cohesion of the scores into an utmost gratification,…showing that Denis' talent is capable of developing schemes from simple electric parallelisms and spearhead crafty melodic designs, but also through past reminiscences…Frank Zappa…This multitude of colours adds a touch of intelligence to the tracks, keeping the lamp of this mythical ensemble bring luminously their sis a path no other group will be able to walk on with the same intensity."
– Massimo Ricci, Touching Extremes, Aug. 8, 2004
"The band is…know for their monolithic, extraordinarily dark and moody brand of instrumental rock; but more and more they have been ditching the creepy horror-movie atmospheres in favor of more dynamic electrified chamber music sound. The evolution is most clearly evident in Implosion, the third "new" UZ album. …Implosion is easily my favorite of 21st-century Univers Zero. Compared to previous efforts, it's practically cheerful' while some of the interludes are ominous noise experiments…the compositions proper are surprisingly – and addictively – melodic. Only "La Mort de Sophocle" is a peek back at what was, with a slow creepiness that tantalizingly reminds of the older stuff. Denis' compositions have never been tighter…and the expanded instrumental palette already evident in Rhythmix is used to even better effect here. …Thanks to the newfound melodicism and, perhaps, the continuing growth of Denis' compositional experience, this is the most accessible UZ yet, and not at the expense of depth. So while fans of the old-school stuff…still regret that the band has (probably wisely) moved on to create a new signature sound, there's no denying that the new Univers Zero is still a juggernaut of a band. Implosion is their best effort since those good old days.
– Brandon Wu, Ground and Sky, www.progreviews.com


RHYTHMIX (2002), CUNEIFORM 156 2002
"Robert Fripp once described his concept for King Crimson as Bartók with an electric guitar Belgian's Univers Zero drops the electric guitar and goes for a 21st-century rendition of the early-20th-century master. Since the late '70s, Univers Zero composer and drummer Daniel Denis has been pursuing his vision of a chamber music that borrows the energy and production of rock, especially working with stereo extremes, but with a classical ambiance. Rhythmix is of a piece with earlier Univers Zero recordings, with challenging rhythmic designs and dramatic structures that sound mediaeval and modern at the same time. "Terres Noires (Blacklands)," "Phobia" and "Zorgh March" speak to a bleak, gothic outlook that's mirrored in the music. With electric bass its only real concession to modernity, Univers Zero weds the pluck of harpsichords and honk of bassoons, bass clarinets and oboes to compositions that seem to speak from another time, yet the whiplash rhythm shifts and explosive melodic declarations mark this as a postmodern work of the first order."
– John Diliberto, Pulse!, #217, July 2002
"Univers Zero may be the best band you have never heard. This group of Belgians, centered around Daniel Denis on keyboards and drums, and Michel Berckmans on winds, has been in existence for almost 30 years, with a long hiatus in the '90s. Now it is back, providing a unique sound which throws together all genres of music in a dark, postmodern architecture.
The more you know about modern "classical" music, the more you will appreciated Univers Zero's references: to Stravinsky, the French Impressionists, and the twelve-tonal or atonal music which dominated much of the twentieth century. Their rhythms, drumming, use of electric guitars and short pieces are definitely rock oriented, but they add in instruments characteristic of classical music which are rarely if ever used in rock: woodwinds, harpsichords, cello, marimba, glockenspiel. These are all played by an ever-changing roster of European instrumentalists. If that wasn't enough, they sometimes add in the kind of accordion usually associated with romantic French folk music. A weird mix indeed!
Their sound is admittedly difficult for American tastes used to pretty, sentimental, simple ear candy, or dumb-ass hard-driving rock. Their musical vision is unremittingly ironic, full of deliberately sour passages, black humor, industrial evocations, and surrealistic fantasies. They will combine a transformation of Renaissance dance music and the sound of factory cogwheels, or a funereal circus march with garage rock chords and synthesizer beats, or tinkling music-box bells with eerie drones. This is what Europeans can do: they can wrap the millennia of their grim history in the millennia of their musical heritage. It is not something that easily crosses the Atlantic to the land of refuge. Yet there is nothing like it here, and listening to Univers Zero is a glimpse of something very special, out beyond our familiar shores."
– Hannah M.G. Shapiro, Eclectic Earwig Reviews, eer-music.com/reviews/univers_zero.html
"This sublime CD's one of the primest exemplars of the fact that… progressive music's long held hidden some of the finest neoclassical works available. Stunning in its hybrid reach, complex as a Piranesi drawing, sweeping in its perspective, gathering up rustic folk melodies and modern elements in a convoluted skein, Rhythmix weds Magma to Jasun Martz while running pell mell through the Samlas, Conventum, and other exponents of ultra-sophisticated worldly prog, resulting in a thirteen-part cycle that, were there any justice in the world, would stand the stalwart Daniel Denis alongside Kancheli, Kurtag, Takemitsu, Oe, Nyman, and others more prominently displayed. …Eerie oboes, arch accordions, Magmic drumming, Exorcist etherealities, foreboding keyboards, and a subdued fin de siecle chaos that keeps restating itself amidst tumult, midgrounds, and dim rays of light, pastures of wheat and decadence. Forget the Crimsony thunder of the past, this is a new page. …Daniel's immersed in arcane apocalyptic beauty, crafting as elaborate a sonic theater as has been attempted, stuffed with profound nuance and the sort of depth that's pushing progressive4 music to new and different limits of virtuosity. With this work, UZ indisputable pushes effortlessly into the front ranks. ….Denis was superb before, he's unbelievable now. One of the decade's masterworks, in any genre."
– Marc Tucker, Exposé, #25, August 2002
"…attempting to repeat the past only offers evidence that an artist is void of new ideas and concepts. One must go forward and evolve. Univers Zero on Rhythmix has done exactly that, bringing in new sounds and fresh ideas, and blending them seamlessly with that familiar sound that is uniquely theirs. The core of drummer/ keyboardist Daniel Denis, double-reed player Michel Berckmans and bassist Eric Plantain are present… Other players…offer cello, flute, bass clarinet, accordion, and – for the first time in the UZ timeline, marimba, glockenspiel, trumpet, and even acoustic guitar! These new sounds add a fresh element that makes Rhythmix unique in the UZ canon. The compositions, by Denis and Berckmans, draw from the same root elements as before…20th century classical, Eastern European folk, and rock; yet in the present context the writing and arrangements seem far more adventurous than its predecessor The Hard Quest. Rhythmix evolves the entire Univers Zero concept into new areas, yet does it in a way that respects the past. Great work, all around."
– Peter Thelen, Exposé, #25, August 2002
"…Daniel Denis'…project remains a vital, dynamic and evolving force. …the brilliance of the compositions, Denis' new orchestral innovations and the topflight musicianship more than make up for any deficit in savagery. …Upon first hearing, there is no doubt that this is Univers Zero. One element that sets Rhythmix apart from earlier efforts is the instrumentation, while the music has the typically dark, somber tenor, the orchestration is dazzling, even brilliant. In addition to Univers Zero standards: harmonium …Michel Berckmans; double reeds and Dirk Descheemaeker's bass clarinet …one also finds marimba, glockenspiel, harpsichord, flute, piccolo, trumpet (imparting an Art Zoyd style to "The Fly-Taxman's Land"), acoustic guitar, cello and accordion. Especially notable among these are the treble instruments, including some bright electronic keyboards which impart a crystalline, piercing edge and bit that its not only new, but in a way, a revelation. A must!"
– Dean Suzuki, Exposé, #25, August 2002
"Rhythmix…displays Daniel Denis' further explorations into classical music. Ten musicians contribute to the album, and that accounts for the increasingly "orchestral" sound. Terres Noires employs a plethora of quotations from 20th century music and ends in the grotesque fashion of Frank Zappa's Orchestral Favorites. Shanghai's Digital Talks… is a sinister sketch, heavy on the keyboards' staccatos. The slow, repetitive Reve Cyclique smells of fauve ballets of a century before, updated to Sixties' minimalism and exotic jazz of the Fifties. The suave bassoon melody of The Invisible Light could be taken from a Cajkovsky ballet.
The album also features some of Denis' boldest experiments, like the percussive nightmare of Rouages, that weds Edgar Varese, Crash Worship and Mike Oldfield, or the orgiastic Emotions Galactiques…The Fly-Toxmen's Land is the only track that clearly belongs to prog-rock (i.e., to rock music): emphatic, loud, and exhilarating. Occasionally revolutionary, at times ahead of its time, always intriguing, rarely redundant, Denis' music continues to surprise and to entertain."
– Piero Scaruffi, The History of Rock Music, www.scaruffi.com/vol3/univers.html
"The Audion #46 Top 10 New Releases: Univers Zero – Rhythmix (Cuneiform) CD" – Audion, Summer 2002
"…indications of Univers Zero's demise were premature, because the group is back with a vengeance on this new recording. …this CD [has] a textural richness and variety that The Hard Quest lacked, but the real strength comes from Denis, not only because of his powerful, creative drumming, but also because of his skilful use of synth textures for colouristic effects – jabbing pizzicato strings, gongs, wailing choirs and the like, but all done with taste and restraint.
The major reason for the group's return to form on this recording is the prominent bass work of Plantain. Denis frequently played unison lines with the bass (as he does on this recording), for an even more visceral rhythmic thrust.
Like The Hard Quest, this CD also has the virtue of thematic variety; there are thirteen pieces, rather than the long, meandering epics of the earlier recordings, which gives Denis a chance to show off his compositional skills, and allows various instruments (flute, bass clarinet, marimba) to be showcased on different pieces.
So, without ever entirely losing the brooding, obsessive, slightly sinister, minor-key melancholia that has always represented Univers Zero at its best, Denis manages to stretch the formula in all sorts of ways on this recording – texturally, rhythmically, compositionally – making for a very sophisticated, satisfying and by no means anachronistic result."
– Bill Tilland, BBCi, www.bbc.co.uk
"Earlier this year I wrote about 'Crawling Wind' – a release from the classical / rock crossover group Univers Zero. ..their latest release, called 'Rhythmix,' [is] in the same unique dark style and with the same imaginative mix of instruments. …
The album begins with a bright, loud, rock-type number called Terres Noires with Celtic and French influences. The relaxed central section has a different mood. … A timpani solo with percussive effects turns into a troubadour number – a track that could almost be early music, and this is followed by The Invisible Light… with a beautiful oboe solo from Michel Berckmans (joint composer/ arranger with Daniel Denis for this and two other tracks). …Zebulon has a kind of 'insects and machines' feel Foret Inviolée (Secret Forest) conjures up just that – a mysterious dark wooded space with strange insects and crying birds… Waiting for the Sun is powerful, plaintive and disturbing with a feel of large empty spaces. …The CD… finishes with a tiny repeat of Reve Cyclique, fading back in for just a few seconds, and then out again – presumably to send us away with the sound of that cyclic dream, tumbling on through the cosmos…"
– Keith Bramich, Music & Vision: The world's first daily classical music magazine, www.mvdaily.com
"'Rhythmix'…points to ways ahead..Denis…reinvents himself. Each piece is an individual entity that competes for the whole work through that unifying concept: the rhythms. Denis seeks for new timbres… 'Rhythmix' marks a turn in the timbres and the dark structures of the past to something more bright…..daring, contemporary, strangely melodious and attractive. To be explored, undoubtedly, by all who fear not the challenges of the art."
– Luis Loureiro, Progressive Rock Portugal, www.prog-pt.com
"In that some works feature repeated themes from others, and there's a great air of déja-vu throughout, the feel of a conceptual opus is achieved. I think that these relations to theatrical dynamics have come from Daniel's work in Art Zoyd, and add a further new angle to the sound. …The results are…an excellent rewarding album, full of variety and invention, in fact a veritable feast for the "twist and turn" fanatic, and one that is both familiar and fresh. There are old themes, and also unheard diversions, sounding like classic Between at one point, almost Henry Cow at another. It's not so dark as some, yet I'd almost guarantee that fans of this Zeuhl/RIO hybrid form should not be disappointed."
– Alan Freeman, Audion, #46, Summer 2002
"Through various permutations and gaps in output, this wonderful aggregation has been in existence since 1974. Now, drummer/keyboardist and cofounder, Daniel Denis surges onward with an extended ensemble, featuring ten musicians instead of the band's historical penchant for utilizing four, five, or six players. …Denis and associates render difficult to navigate time signatures and hallowed strings while they extend their reach with the addition of synths, and electric vibes. Hence, the chamber and goth feel presides but the added instrumentation offers a polytonal outlook, comprised of a multi-layered slant. They pursue darkly hued textures amide weaving chamber-like passages and melodically-tinged themes. …There's a whole lot of goodness going on… The musicians instill a sense of urgency and motion throughout, whereas the album title effectively suggests a rhythmic matrix! Either way, this recordings marks a significant milestone for this time-honored aggregation! (Zealously recommended.)
– Glenn Astarita, All About Jazz, Aug 2002
"To get a picture of UZ's sound, imagine if in the middle of their Red or Starless and Bible Black phase, King Crimson was transported back to medieval times and had to play their music with period instruments. …Ominous rhythms drive many of the songs, with the lumbering bass and drums quickly pierced by flurries of pattering keyboards and glockenspiels. Short bursts of repetitive note patterns are frequently used… There are many bright spots of horns brought together with slowly drawn cello notes to occasionally smooth things out.
The music is so complex, so tightly played, that it is obvious each note from the ensemble was meticulously crafted and placed by Denis, yet it rounds a compositional turn, paradoxically carrying the feel of avant-garde freeform improvisation. With this musical strategy, Univers Zero offers a continuous stream of delightful listening surprises from each of the CD's 13 compositions through many, many plays."
– Michael Hopkins, The Scene Online, www.valleyscene.com
"…both under his own name and Univers Zero's trademark sound, Daniel's music remains virtually unmistakable and always full of meaning and menacing sting. This new record…mixes old and new UZ… the electronic element is perfectly balanced acoustic aromas = not too far away from the Trigaux era, but with a little more "modern" approach. Another Cuneiform winner."
– Massimo Ricci, Touching Extremes, spaxioinwind.libero.it/extremes/touching.htm
"…I'm enjoying it more than Heresie… As the title implies, this is a very machine-like, rhythm-oriented album, making the band's usual brand of dark chamber rock sound like it's being performed in a heavy industrial factory. There are some interesting combinations of sound, like the medieval music set against pounding drums and what sounds like venting steam in "Rouages: Second Rotation"…Overall, this is a much more modern sounding and electronic album…and as such it reminds me of Present in places. It's also a lot more rhythmically active than Heresie, and while still fairly dark sounding it's not nearly as over the top as that album."
– Bob, Ground and Sky,
"The first thing that struck me was the addition of so much extra instrumentation. The return of the cello was nice, and flute and accordion were presented with a subtle enough touch as to be virtually transparent. The kickers, though, are trumpet (!) and acoustic guitar. …The defining moment comes with the opening of "The Fly-Toxman's Land". As soon as it started I thought "This is it", and was blown away by every note of it. The trumpet's arrival is absolutely jarring, which is fitting for such a brutal composition. …Five minutes was just not enough. …Rhythmix holds up to modern Univers Zero standards. …the somewhat more subdued pieces …hold up to moments on Heresie and 1313 …this CD is perhaps more accessible to new listeners, and not a disappointment to old fans.
– Gary N, Ground and Sky,



THE HARD QUEST (1999) Cuneiform [Rune 120] :

"…Univers Zero is back in a big way with a stunning new release, proving themselves to be one of the best and most important groups on the planet. The sound harkens back to their first album…The almost fragile construction, with its exquisite compositional structures and web-like textures are all there, but coupled with a more mature and sophisticated approach to sonority and color."
Dean Suzuki (roundtable review), Exposé, Nov. 1999

"Brilliant comeback album by an important avant garde band." Louis Behiels, Crohinga Well, Oct. 2000

"The fall of Rome? The parting of the Red Sea? What else can compare with the monumental occurrence (after 12 years!) of a new slab of Univers Zero?… The Hard Quest is a masterwork!…it is the least rock-oriented direction they have explored yet… the most acoustic-based album since their very first…if you ever had an inkling to taste the fruit of the world's finest musical ensemble…there is no better chance than here and now… this CD will take top position on my Best-of-'99 list at year's end."
Mike Ezzo (roundtable review), Exposé Nov. 1999

"Its amazing that well over a decade of no recordings, this band can reform and produce an album that – while obviously showing signs of growth in many areas, still has that trademark "dark chamber" feel that is instantly recognizable as Univers Zero. Those who appreciate the very "acoustic" feel of the band's first album from '78 will find much of that spirit within…Those who like dark unsettling melodies reminiscent of Bartok or Stravinsky and meter changes every few measures will find plenty here to enjoy. The aggressive, more Crimsonesque oriented sound that seemed to be building from their third album (Ceux Du Dehors) through the fifth (Heatwave), while still present… is now sharing the spotlight with more sparse passages and new explorative ideas… A certain candidate for the ten best releases of this year."
Peter Thelen (roundtable review), Exposé, Nov. 1999.

"[Univers Zero] are progressive in the same spirit as works by great innovative bands like Henry Cow, Magma, Art Zoyd, King Crimson, etc. Actually this music is much closer in nature to modern classical music (by composers like Schnittke and Ligeti) than it is to rock…. Hard Quest presents 11 meticulously performed, intensely controlled compositions that are characterized by an underlying sense of foreboding. Employing bassoon, oboe, English horn, clarinet and violin, Univers Zero creates dark, majestic chamber music that is at once challenging and beautiful.… a work of subtlety, grace and elegance."
Paul Lemos Under The Volcano

"Dark, complex, and full of compositional fury, the latest release from the legendary "chamber rock" band will surely be remembered as one of the best albums this year…are filled with all the dark splendor and rich arrangements that this venerable outfit is known for. If Stravinsky were alive today, he'd be in a band like this one."
James Bickers, Leo Magazine, v.9, #45, Oct. 13, 1999

"…this is … definitive Univers Zero, revitalized again with a few unexpected new dimensions to the sound. Refreshing and as vital as they ever were…there's a wealth of invention in the soloing and structures… taking the sound beyond CEUX DU DEHORS to deeper Third Ear Band and Between hybrid territory, all mixed up in a heady brew akin to Daniel Denis' solos and the rocky invention from Univers Zero's previous studio album HEATWAVE."
Audion, #42, Spring 2000

"The Hard Quest…is an important event… Those stumbling into their gothiky universe for the first time may find their compositions… involve a studious unraveling of classical rock themes, where not a chink of improvised light is allowed into the group's creative chamber. Once your ears become accustomed to the gloom, though, Univers Zero's music can be blindingly illuminating."
Edwin Pouncey, The Wire, #190-91, Jan. 2000

"a stunning new release… the music is visceral, powerful and most satisfying for the adventurous listener. Angular melodies and focused timbres create a fragile, complex web, bolstered by irregular time signatures and rhythms, and powerful, biting discordant harmonies… 4 stars."
Dean Suzuki, Pulse!, #21, Dec. 1999

"'The Hard Quest' is as much classical music as rock… The overall sound is quite dark and ominous, the imagery gothic. Always atmospheric, the feeling is of a relaxed Enid meeting American minimalist John Adams… In the broad spectrum of what progressive music should be, this is cutting edge… Excellent."
Bernard Law, Wondrous Stories, #94, Nov. 1999

"…my admiration for Univers Zero was total because they seemed to be able to conjure that awful sense of existential dread we enjoyed from King Crimson…but…did not require electric instruments and Marshall speaker cabinets to do it. …The secret was musical architecture and selection of weapons…After 5 records that never let a fan down…here's a new CD, once again a solid, brilliantly ugly addition to the band's C.V. …turn it up! Then the grimly dancing piano of "L'impasse du Cholera" will echo in your listening room and begin to trip all those little chemical triggers in your mind that those chords and their combinations are supposed to set off. Here on "Xenantaya" are the dour massed chants one might expect to hear wafting up from basement windows on the Rue d'Auseil…here also in "Vieux-Manants" you'll hear decadent pagan marches of the sort that would bring Roman emperors sweeping into their throne rooms after a busy season in the north killing Germans…the more "chamber group" feel gives the sound more air and light (as does the production) … a far greater sense of delicacy in the arrangements… the Univers Zero franchise is alive and well in Denis' capable hands…Welcome back, messieurs, we did miss you."
Frank Wertheim, Tone Clusters, #74, Dec. 1999

"With vice-grip concentration and unnerving audacity, this Belgian quintet offers the forbidden fruit of classical music by performing diabolic dervishes, sabre dances, and tantalizing tangos… And while ensembles like the Kronos and Brodsky quartets have filtered into the rock world by way of guest appearances or loosely adapting rock music, Univers Zero have been single-handedly bridging the two disparate worlds by integrating a frontline rhythm section into their dark scores. And what a powerhouse pulse machine it is...The theme music for horror films from the likes of Dario Argento may be the closest links, yet Univers Zero are wise to the ways and minimalist means of Reich, Riley and Glass (and most the of the 20th century's finest composers.) …their music has a mystery and a power that's yet to be discovered by the outer stretches of goth and gloom lovers. Daring and delightful."
Virginia Reed, Focus, Oct 14-27





HEATWAVE (1987) Cuneiform (Rune 9):

"Heatwave … is an intricate and monumental piece of work…Univers Zero play the most complex, rehearsal-intensive music since the heyday of progressive rock…The band remains as morbid as ever…. Univers Zero, without any overt politics, stick to an extreme program: mulling over the choice between survival (for whatever it's worth) or destruction (that's all, folks) as close as music can capture it."
Michael Bloom, Boston Phoenix, Aug. 21, 1987

"Like every UZ release, Heatwave is disturbing, fascinating and profoundly musical….Heatwave is the band's most electronics-oriented album ever…The result is a logical extension of UZ's original chamber-music-from-hell sound."
Michael P. Dawson, Goldmine, 11/2/90

"Univers Zero take the rock/chamber music foundation laid by Henry Cow in the early '70s and build upon it. UZ's instrumental virtuosity excels that of Henry Cow's players, and their highly original use of electronics sets their work firmly in the present… "ferocious" and "relentless". On this outing their sound is highly similar to that of Art Zoyd's classic Les Marriage du Ceil et L'Enfer, but with a far more brutal percussive power…the instrumentalists' adherence to classical technique composition precludes categorization as fusion.…Challenging, but never difficult, aggressive, but never abrasive, Heatwave is a complex, densely textured, and electrifying work of art."
Michael Draine, Sound Choice, #10

"I've been salivating over the very thought of this record ever since I received word of its imminent release. When it arrived, it proved to be every bit as good and then some..The line up is also one of the most electric yet from UZ, causing the music to sizzle and burn…For fans, Heatwave is a must; for the uninitiated, it is a superb introduction to the music of Univers Zero."
Dean Suzuki, Ear Magazine, 2/88

"…the band sounds much like a mating of Stravinsky, Bartok, the Art Bears, mid-period King Crimson, and Anthony Davis' Episteme. Throughout their existence, Zero has played this highly uplifting material with an ear for stunning orchestration."
Russ Summers, Option, Nov/Dec 1987

"Hard to say exactly what tradition the extraordinary LP arises out of. Some of the odd-meter riffs on electric guitar and trap set are reminiscent of mid-'70s British progressive work by Gentle Giant and others, but the kaleidoscopic development of the phrases through meticulous orchestration is almost Stravinskian, the willingness to repeat simple material is a tip of the hat to minimalism, and some of the sounds throughout might have been borrowed from the Residents. The mood is dark and intense throughout..a tightly controlled developmental logic is always at work… A must for lovers of adventurous music."
J.A., Keyboard Magazine, Oct. 1987





UZED 1984; reissued 1989 by Cuneiform [Rune 15]:

"…one of the most important groups of the 1980s ..Univers Zero conceptualize the Europe of the late 20th Century... dense, desperate and dark; nevertheless, the music of UZ is above all beautiful and dramatic, strongly marked by the cultural traditions of Europe…Univers Zero.may be classified somewhere between Bach and Bartok, Magma and Stravinsky…They represent something new, monumental, and important…UZED…to my mind, their finest recording…is a stirring lament over a European continent in physical and cultural decay, and one inevitably thinks of Denis' homeland Belgium …UZED is a rare, intense, and magnanimous piece of work, and it is absolutely compulsory for everyone who's had enough of the monotony of Laibach, who's played their Magma records to shreds, and/or who would have wanted there to be a bit more electric bass and drums on Bartok's string quartets."
Thomas Hylland Eriksen, Puls (Norway), Feb 1989

"Univers Zero is a showcase for the compositions of percussionist Daniel Denis. …when the fuzz guitar starts wailing you know you're not in the land of Poulenc and Lilhaud any more. Denis is taking chances and he wants you to know it...One thing that separates these artists' work from the work of more conventional composers is the absence of filler….we're not sure where Cuneiform Records is finding this stuff, but we hope they reach some sort of audience with it."
J.A., Keyboard, May 1989

"This is not polite chamber music… but an intense, often violent sound that writhes with a sinister energy…The opening "Presage" may remind listeners of King Crimson's "Larks' Tongues in Aspic" series, but…Univers Zero's musical vision is truly dark, lacking the romanticism that hides withing Robert Fripp's compositions…Not music for the faint of heart, which is probably as a good a definition of rock 'n' roll as any."
Michael Dawson, Goldmine, 1/13/89

"an inventive quintet who never fail to impress with their jagged time lapsed piano, dramatic time signatures, bass, reeds, deep cello and busy drums. The music drives along moonless avenues, soundtracks to a world beyond tomorrow."
Outlet (UK), #36




CEUX DU DEHORS (1981) reissued 1992 by Cuneiform [Rune 39]:

"If Stravinsky had a rock band, it would sound like this. Blazing, white hot, medieval."
C.W. Vrtacek, Advocate Newspapers, 1/28/93

"…a dark record, utilizing the triple-fusion approach of the Rock-in-Opposition sound (jazz, rock and classical avant-garde), with the classical influence being the most dominant. The tense and brooding influence of the baroque school is felt on every track….The erratic rhythms created by the bass and percussion, as well as the complex arrangement provided by the exceptional composition, give this otherwise medieval sound its twentieth century flavor."
Michael C. Mahan, Alternative Press, #54, Dec. 1992

"…this is probably their most comprehensive catalog of horrors, from the ominous minimalist pedal points in "Combat" to the ghostly improvised droning of "La Musique d'Erich Zann"…to the grotesque bassoon/viola tradeoffs in "Bonjour Chez Vous."
Michael Bloom, Boston Rock, #133, July/Aug. 1993





HERESIE (1979) reissued 1991 by Cuneiform [Rune 29]:

"UNIVERS ZERO's music is sometimes defined as "gothic Chamber rock", and indeed its ominously dark atmospheres with growling voices and creeping drones will hurl you way back in the dark ages when the inquisition reached its most terrifying status. Intense fear licks from loud speakers, you hear kneecaps splinter, you feel pain screaming…absolutely not fit for children, young adults and musical lightweights…" Ernst van Dinter, Background, 8/92

"..as exemplified by Side One's "La Faulx," this is "Gothic Chamber music" at its best. Amidst growling voices and creeping drones, the piece slowly takes on a more structured approach that… Edgar Allan Poe would have loved…"Jack the Ripper" is a tense and uneasy walk through England's dark and dank back alleys.…by any standard, I hold this band in the highest esteem…"
Glenn Hammett, Sounds Like, #8

"Chamber music for the Apocalypse. This talented quintet finds the right balance between post-Schoenberg and postmodernism. …the group's trademark gloomy sound…Their compositional resources … and idiosyncratic ensemble work mark Univers Zero as a group of admirable, though dark, vision."
Keyboard, 5/92

"…a dark and menacing listening experience… the closest comparison I could come up with is "The Devil's Triangle' on King Crimson's second album. Univers Zero are unsettling and uncompromising in their approach…the Gothic Governors. The instrumentation is used effectively in a sort of Armageddon chamber-music style, all topped off with some strange growled vocal effects. An intriguing and absorbing band, though more for people who can enjoy classical music structures than out and out rock leanings."
Mike Dillingham, Ptolemaic Terrascope, v. 3, #1

"Widely regarded as the darkest, most sinister album ever recorded, "Heresie" has earned a reputation which is somewhat exaggerated and misunderstood …Not really as dark as it is usually perceived, "Heresie" is a passionate, expressive, purposeful, and important album."
Dan Casey, Gibraltar, v.4, #17





1313 (1977) reissued 1990 by Cuneiform [Rune 20]:

"…Univers Zero contemplates a dark, often violent sound, which can be oppressive. But like storm clouds rolling out of the horizon or mad shadows cast in the night, there's also a dusky ecstasy present here. Using bassoons, cellos, violins, and harmoniums, the group creates gothic textures and ambiences. On top of that, there are hints of Bartok, Jimi Hendrix, John Coltrane, and King Crimson. It's stunning how well Univers Zero's 1977 debut holds up, musically and sonically, compared to…anything else happening in so-called new music... 1313 is brooding chamber music."
John Diliberto, Keyboard, March 1990

"Welcome reissue of what now seems 1977's darkest musical vision. The Belgian instrumental ensemble mixed rock's standard set up with violins, bassoon and harmonium, and created audible Rorschach blots of horror – in particular, the vulnerability of exposed innocence just before horror strikes…By today's standards a remarkably subtle weaving of rock, classical and avant garde tactics, it's a starkly beautiful portrait of "innocence destroyed".
Mark Rhodes, Alternative Press, #27

"Thirteen years after its initial release it still sounds as crisply smart and outta-time as ever…The stance is sophisticated and darkly sonorous. Using the same sorta jagged rhythmic construction that blew minds in concert halls in the early 20th century, UZ provide an excellent and logical brand of ear fodder designed for people who were weaned on the early works of the Mothers of Invention, but became incapable of dealing w/ Zappa's stunted sense of humor…UZ are part of a tradition that includes Bartok's string quartets, Barre Philips' solo bass work and Glenn Branca's gtr-heroics – music that's so overwhelmingly crafted that you can almost forget it's actually as warm as blood and twice as tasty."
Byron Coley, Forced Exposure

"Univers Zero's classically inspired strings and rock-based percussion and guitar succeed because the band…pulled together common elements – angular melodies, intricate interplay, close attention to texture, flexible rhythms – to make something unique and cohesive. It's fusion in the truest sense and doesn't condescend to either tradition… worth the effort."
Lang Thompson, Goldmine, 2/23/90

"Persechetti's nightmare come true is Univers Zero…Worth checking out for fans of gothic classical with a strange twist."
Billboard, 1/13/90

"…an unusual, fascinating blend of rock sensibilities and early 20th century musical techniques…this group has been listening to Stravinsky and Bartok…The music is startlingly brutal, especially for an ensemble that is mostly acoustic. The melodies are angular, the rhythms kinetic and thunderous, the harmonies searingly dissonant, and the overall sound bracing and very dramatic… challenging and absolutely compelling listening." Dean Suzuki, Ear, March 1990

"The closest comparison might be Henry Cow crossed with Stravinsky (with a bit of Zappa and Magma thrown in.)…The sound…is superb. Everything is picked up, from the low rumblings of the bass drum to the quiet scrapings of the bow across the violin."
R. Iannapollo, Option, May-June 1990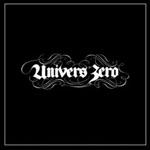 1313 (1977) reissued 2008 by Cuneiform (Review source: http://www.allaboutjazz.com/php/article.php?id=29715)


Univers Zero
Univers Zero | Cuneiform Records (2008)
By John Kelman

Historic significance cannot be measured in sales. Music often progresses in near anonymity, its true impact only apparent years after the fact. When Univers Zero released its first untitled album in a tiny run of five hundred copies in 1977, it reached few ears. Those hearing it, however, knew that this was something that had not been heard before. By combining a guitar-based rock trio with instruments usually associated with classical music, UZ was far more than a clichéd, Ekseption-like attempt to "rock up the classics." Instead, by avoiding traditional rock posturing, UZ created a new kind of chamber music for a new assemblage of instruments.

Releasing nine albums since, culminating with the outstanding Live (Cuneiform, 2006), UZ's debut remains both benchmark and landmark. Reissued numerous times over the years, most often as 1313 (the catalogue number from its first issue), this definitive version finally presents this unprecedented music the way it was meant to be heard, clarifying how—emerging out of nowhere with little history to precede it— UZ has been so vital in changing the way chamber music is perceived.

UZ's music was an antecedent for the kind of instrumental and stylistic interspersion considered normal today by groups including Bang on a Can and Alarm Will Sound. Henry Cow's complex, abstruse writing meets Bartok, Stravinsky, Messiaen and Ligeti, but with hints of early music, especially in UZ's use of spinet and harmonium.

With deep, inevitably detailed writing leaning towards the darkly dramatic, composed by drummer/percussionist Daniel Denis—the band's only constant—and guitarist Roger Trigaux, their "learn as you go" methodology makes UZ's unequalled vision all the more important. There's nary a backbeat to be found—not until Denis reformed UZ for The Hard Quest (Cuneiform, 1999), in fact, did a more overt rock stance emerge as part of UZ's complex complexion.

The remastered remixes of the album's five tracks, from the original multi-track tape, reveal previously unheard detail. On Denis' fifteen-minute episodic "Ronde," the presence of the percussion, the rich percussiveness of Michel Berckmans' bassoon and rough edges of Marcel Dufrane's violin lend greater intensity and brightness to the colorful soundscape. Despite UZ's preponderance for composition, improvisation is a component, with Dufrane's solo on "Rondo" a confluence of low-register melody and gradually increasing extremes, synchronously supported by Denis' near-anarchistic percussion and bassist Christian Genet's swooping glissandi.

A 28-minute bonus track, originally recorded by Belgie Radio Televisie in 1979, provides an early view of UZ in performance, with the line-up of Heresie (Cuneiform, 1991) performing its opening "La Faulx." Darker and more bleakly melodramatic, bassist Guy Seger's "interstellar chaotic speech" establishes a link between UZ and avant-art rocksters Magma.

Despite occasional stylistic links, Univers Zero always spoke (and continues to speak) with its own voice. This welcome reissue confirms, once again, that in 1977 a nearly unheard-of group was creating a new kind of chamber music that, in its inclusion of rock instrumentation and the occasional rock stance, would be a blueprint for classical music of the 21st century.

Track listing: Ronde; Carabosse; Doctor Petiot; Malaise; Complainte; La Falux (bonus track).

Personnel: Michel Berckmans: bassoon, oboe (6); Daniel Denis: drums, percussion (1-5); Marcel Dufrane: violin (1-5); Christian Genet: bass (1-5); Patrick Hannapier: violin, viola (1-5), pocket cello (1-5); Emmanuel Nicause: harmonium (1-5), spinet (1-5); Roger Trigaux: guitar, harmonium (6); Guy Segers: bass (6), vague rumblings (6), interstellar chaotic speech (6).

Style: Classical | Published: June 13, 2008






Univers Zero July 1977 - Emmanuel Nicaise, Michel Berckmans, Patrick Hanappier, Marcel Dufrane (behind the cimbals), Daniel Denis, Christian Genet, Roger Trigaux