Email Interview with Daniel Denis, january 2014.
By Renato Moraes & Michael Bohn.
Many thanx to Pierre Tassone for the translation from french, and the proofreading by Steve Davis.
French version here.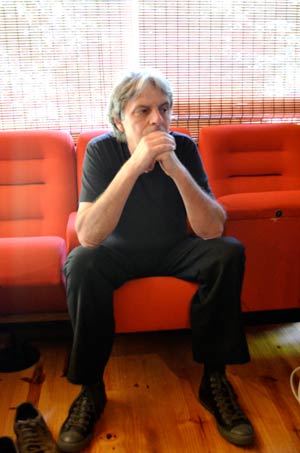 Q: Daniel, in 2014 Univers Zéro will have been in existence for 40 years. Could you tell us about its history, the original concepts of the band, how it is today and what you see for the future?
DD: UZ' birth happened after the disbandment of the group Arkham. Claude Deron (one of its members) and myself decided to keep doing something together. We searched for musicians and found Trigaux and Segers. The band was first called Necronomicon and became Univers Zéro in 1974. The music was in its infancy compared to what we would offer later. It was a mix of electric free jazz and rock with zeuhl accents, but nothing extraordinary.
Several parameters helped the group to find its own sound and musical structures, like the input of instruments like the violin, oboe, bassoon and harmonium. We wanted to set us apart from what was being done in music at that time. As far as I was concerned, our influences showed an increasing interest for medieval and contemporary music, blended with music from eastern countries but without denying my affinities with rock, which I always have kept. I think that UZ successfully managed those various influences and achieved quite an homogeneous result that then became our identity. The band has evolved much through the years, thanks to a strong work ethic and a will to push ahead. The influx of several musicians throughout various periods also contributed to this evolution, giving me new ideas each time.
The same is still true today, with Antoine and Nicolas, two extraordinary musicians, who give new impulse to UZ's music.
The future? I don't really know. I feel that we live in a society where music such as UZ's has more and more difficulties in finding an audience. It is extremely difficult.
Q: Univers Zéro is a band in constant change. By the end of 2012 you had reshaped the whole band. Why?
DD: As I already hinted before, the previous band had reached saturation point. The musicians had become unavailable and we didn't rehearse enough in order to vary the concerts or work on new pieces. For me it was a radical decision, but I had to break up the band in order to progress, otherwise I would have stopped everything.
Q: The new line-up is the most electric since Heatwave times. It is practically the first time the band has had no violin and the trademark bassoon and oboe of Univers Zéro's sound has disappeared. How do you compare this new young band with previous formations? How does it impact on your music?
DD: I think that the identity of a group doesn't lie in the sound alone, but rather in the spirit of the music. UZ has had various line-ups, with various instruments and sounds, abut it always remained "UZ". There is nothing worse for a band than to be satisfied by the same patterns, sounds and structures it has used for years. This prevents a band from evolving. On 'Rhythmix' and 'Implosion', and a bit on 'Clivages', I used sampling. This enriched UZ's music and added other dimensions and sound spaces.
Q: The new CD, Phosphorescent Dreams will be out soon. What are your expectations for it?

DD: I really feel that this CD is another step forward. We spent a lot of time preparing it.
Some of the pieces have been composed for experimental short films of the 20's and 30's commissioned by the Cinetica Nacionale de Mexico. In April 2013 we played them live in Mexico during a screening of the films.
'Phosphorescent Dreams' contains pieces with a variety of structures that bring an almost serene undercurrent throughout, without ever losing control.
Kurt's pieces mix perfectly with mine and bring a very good balance to the whole CD.
The contribution of Nicolas on guitar is extraordinary and gives the album a "rockier" energy. I've been looking for that for a long time.
Q: Univers Zéro had an image manipulator for a while, recently you played music for silent movies in Mexico. You also did a lot of that with Art Zoyd. How important is the lightshow and film to the live performances?
DD: We got this commission last year. This was the first time that UZ had worked on silent movies. This form interests us strongly and the possibility to work on a full length film is a possibility.
Concerts are becoming scarce these days and we must not overlook other concepts for future live performances.

Q: What music did you listen to in 2012-2013? Do you listen to modern classical music, a style that seems an important part of Univers Zéro? If you do listen, which composers do you like?

DD: I've been listening very little to music for quite a long time. On occasions perhaps I should immerse myself again in the music I've listened to in previous decades. This may sound weird but what I listen to is mainly 60's rock like Hendrix (whom I'll never get tired of), Kinks, Small Faces, Who, early Pink Floyd, Beatles and many others.
I know it hails from another era but this music was blowing in all directions. When I stumble upon today's rock music , I am often astonished by the lack of imagination.
Q: Even though Univers Zéro is always changing, there is a characteristic style to your compositions, even those of your latest contributor, Kurt Budé. How do you deal with evolution versus the trademark style?
DD: As I said earlier, as a band we have invested a lot since Univers Zero's reformation, especially focusing on the composition of pieces. It is always interesting in the evolution of a group to have other composers add their feelings to the mix. The range of UZ's music is very broad and allows for this kind of experience. Kurt brings his musical vocabulary but ensures that his writing compliments the group's spirit; it is possible that Antoine and Nicolas will do the same in the future.
Q: Has the way you play the drums changed over the years, has your sound changed? Who are your drummer heroes?
DD: Firstly there is Tony Williams. He's top notch. He has energy, inventiveness, musicality, a mastering of the instrument, in fact he has it all.
Mitch Mitchell is also for me the first drummer whose playing was hyper-fusioned to Hendrix's music and got me really freaking out. When I heard "Hey Joe" for the first time, I was wondering where has this drummer come from!
I really like Michael Giles (on the two first King Crimson albums), John French (Magic Band) and Jack Dejohnette (with Miles Davis). Charles Hayward is also a very interesting musician.
As for myself? This is absurd, but when I compose pieces for the group, I always have difficulties to finding the drum parts. Very seldom do I start to compose by using the drums. I can say that UZ's music isn't made for drums! This still causes me some concern but it is clear that within UZ, the concept is more 'orchestral percussion'. I didn't have this problem when I was in Present.
Q: Your son is also a drummer and has taken part as a guest on this CD and also on Clivages. What is it like working with and listen to your son play with Univers Zéro?
DD: I had invited Nicolas the first time on 'Clivages' but the drum part was very basic. His first experience was a bit frustrating for him. This time, I offered him a piece that was far more interesting for drums. I showed him a framework and the result is superb.

Q: The style of the bass players have been quite different throught Univers Zéro's history. Guy Segers, Thierry Zaboitzeff and Christian Genet had a very strong sound, Eric Platain is more into jazz-funk, whereas Dimitri Evers has a modern, subtle style. Did you seek a specific sound for different periods or albums, or have you let them bring their own characteristics into the band?

DD: All bass players who have taken part in the band have had their own way of adapting their style to the music, even if the bass parts are and always have been very 'written'. There is no need for a really specific bass player in UZ, they just have to understand that their instrument is there to serve the music and not the other way around.

Q: How do you compose? In the past, during live performances, Univers Zero have improvised on some themes, which were later recorded as full compositions, like the intro to 'La Faulx' and some tracks recorded by Present. Do Univers Zero use improvisation in order develop ideas or is everything already written? How do you view improvisation in your live performances today?
DD: It only happened a few times. The intro of 'La Faulx' came from parts that we found on stage and then constructed bit by bit. It has also happened that we start from nothing and then have the improvisation magically and spontaneously build to incredible effect like 'Central Belgium in the dark'. Apart from those rare examples, UZ's music always starts with precise written elements. For many years, like a lot of musicians, I use a computer. Thanks to the music software, I can get an idea of the final result of the pieces. it's very efficient tool.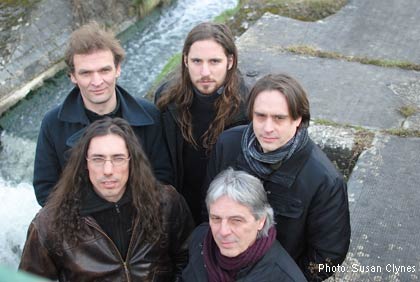 Q: Univers Zéro do not touring that much, is the market for concerts not good, or have there been other reasons? What is your agenda for 2014? What is the best way to book UZ for concerts?
DD: It's fair to say that there's been a real problem ever since our beginning. The lack of management has always has been a big void for UZ. We've never been teamed with qualified professionals in the field. It always ends up with us doing the work, and that's incredibly difficult, that's not our expertise. On the other hand, in order to travel we can't ask for wages that are too low, we did that before and it led nowhere. It is fundamental for UZ to do concerts in the best possible conditions.
Q: What about the future?
DD: As I said before, I really don't know. Concerts are so hard to come by. There may be the possibility of creating music for a full length film, as Art Zoyd did previously, but without commissions from outside promoters, it is difficult to instigate the work.