News
Coming Concerts
History
Discography
Press releases
Interviews
Personnel
Gallery
Downloads
Where to buy
Links
Guestbook
Join mailing list
Frontpage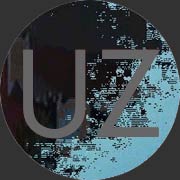 ♠ All musicians through Univers Zero's different incarnations

THE MUSICIANS 2013

Daniel DENIS
A self-taught drummer, percussionist and composer who also plays keyboards. In 1970, at the age of 17, DENIS, along with Jean-Luc Manderlier, form ARKHAM, an avant-garde rock trio. In 1973 he plays some concerts with MAGMA. NECRONOMICON, a new group co-founded with Claude Deron, evolves into UNIVERS ZERO in 1974. By and by Daniel DENIS emerges as its leader and principal composer. Alongside of his work with UZ, he also plays with PRESENT, recording several CDs with them. In 1985 he joins ART ZOYD for the first time, for a "live" presentation of the music they composed to accompany Roland PETIT'S ballet "Le Mariage du Ciel et de l'Enfer". In 1993, after releasing two CDs under his own name, he is again invited to join Art Zoyd and take part in their film-cum-concert productions of "FAUST" and "HÄXAN". Over a seven-year period he takes part in a number of performances where a live soundtrack, written and performed by the group, accompanies screenings of these two classic silent films. These performances will take him to numerous countries across the globe. In a joint effort with the Orchestre National de LILLE he also takes part, as a member of ART ZOYD, in three cycles of "Dangereuses visions", from 1998 to 2000. 2002 sees him composing for le Théâtre, as well as writing a commissioned piece for ART ZOYD, which will be performed by MUSIQUES NOUVELLES and ART ZOYD as part of "Expérience de Vol 4" under the direction of Jean-Paul DESSY.

Dimitri EVERS
Plays electric bass and is composer, arranger and programmer. He is a very versatile artist and was working in the JazzStudio d'Anvers (Antwerp) until 1995 with several other artists (M. WEYLER, P. VAN DORMAEL, P. VAIANA, C. JORIS, B. SLUYS and P. HERTMANS). Along his career, he took part of various groups playing in a sort of different styles, as Youri OF GROOTE' S project (instrumental fusion), HYDRA d.a.r.m (from France; rap; distributed by Wagram/FZM), Modern Jazz Club (big band jazz), Marcel Sel (funk pop), Concors Ora (experimental music under direction of Pierre VAN DORMAEL), Longa Quartet (spanish flamenco jazz), among others. He was also a studio bass player for Charlie, Red Ash, Maxence, MdC & the Crazy boots feat. Kamara, MoonMan, KundalinÓ, and took part in the production of about fifteen albums.

Kurt BUDÉ
Clarinet, saxophone.
After the academy at Maasmechelen, he went to study classical clarinet at the Brussels Conservatory, followed by courses in jazz clarinet and sax at Den Haag.
He has played and recorded with, among others: Michel Bisceglia, Jo Lemaire, Chris de Bruyne, the Brussels Big Band, Johan Verminnen, Musique à 9, Musica del vivo, Oscar Wallas, Photis Ionathos, Soledad, Assam, the Ballet de Flandres, etc.
He is a lecturer at the Académie and the Conservatory in Brussels.

Antoine GUENET
Antoine Guenet takes his first piano lessons at age 11 with Pierre Jadoul, who helps him write his first composition. Attracted for awhile by jazz guitar, he also takes some classes with Guy Raiff. When he gets back to the piano he attends a few summer-classes at the Académie d'Eté de Wallonie in Libramont. There he treats himself with blue notes, already chaperoned by solid belgian jazz musicians: improvisation with Alexandre Furnelle, jazz piano with Jozef Dumoulin and Kris Defoort. After a year at the Antwerp Jazz Studio where he learns theory and improvisation with a.o. Koen Nys, Jérémy Calbert and Joe Higham, he begins his studies at the Royal Conservatory of Ghent in 2006. There he develops his jazz technique with Erik Vermeulen, takes ensemble classes with Pierre Vaiana, Hans Van Oost, Marc Godfroid, and composition classes with Frank Nuyts. From his interest for composition and free improvisation, he attends in 2007 a one week instant composition masterclass with Fabrizio Cassol (Aka Moon), and in 2008 a one week composition master-class with Lisa Bielawa (Philip Glass Ensemble) in Salzburg, Austria. Meanwhile he launches his jazz rock quartet "(S)hhh" with which he'll play the opening acts for Jef Neve in Louvain-la-Neuve, and the late Esbjörn Svensson Trio at the Middelburg Jazz Festival in the Netherlands. At the same time he deepens his experience in free improvisation at the weekly Hot Club de Gand jam sessions with Bart Maris, and with free improvisation collective "PaNoPTiCoN". In 2008 he starts his own improvisation trio: Antoine Guenet « Strong and Wrong » Trio with Lander Gyselinck on drums and Steven Delannoye on tenor saxophone. In 2009 he creates "SH.TG.N" in which he distils an explosive mix of rock, metal, jazz, psychedelic and polyrhythmic music, ready to work as soundtrack for David Lynch's craziest movies! This year (2012), SH.TG.N releases their first album on New-York progressive label MoonJune Records. More recently he joined internationally renowned band "The Wrong Object", with Michel Delville (g), Marti Mélia (s), Grégoire Tirtiaux (s), Pierre Mottet (b), and Laurent Delchambre (d).
Antoine Guenet is a musician whose curiosity enriches his musical universe. Composer for his own bands, but also for the theater and dance worlds (show "Galerie" by La Locomotive, dance company based in Marseille (FR) and led by Yan Giraldou, premiere in 2011 at the prestigious Pavillon Noir in Aix-en-Provence), Antoine Guenet's latest project as Artist in Residence for the Gentse Feesten 2012 premiered on July 19: "AG8tet" is a double ensemble playing songs around on the end of the world.



Nicolas DECHÊNE
Nicolas studied in the Conservatoire Royal de Liege and got the First Prize for Classical guitar. At the same time, he got introduced to jazz and regularly visited classrooms of Garrett List, Frederic Rzewski and Michel Massot where he learned the art of improvisation and composition.Since then, he has been a classical guitar teacher in music academies and, as a guitarist and a bass player, has collaborated with very diverse music bands playing all kinds of music (jazz, contemporary music, French song, traditional music, etc.). He tours currently with folk band Turlu Tursu, jazz-rock bands "Gansan" (meeting of a jazz quartet with two Berbers musicians) and "Follow the river". He's been heard in company of Garrett List (Etat de Siège) and has also recorded on the album of Pierre Vervloesem "Rude". He plays in the band "Sky" with Osama Abdulrasol and Melike, in the "Karim Baggili septet" and in the Géraldine Cozier trio (French song).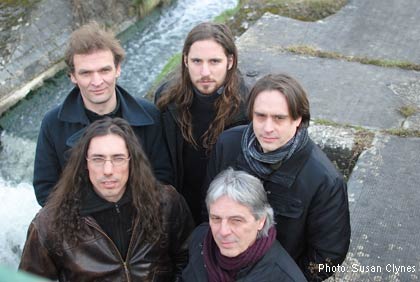 Univers Zero 2013
From left to right: Kurt, Antoine, Nicolas, Daniel, Dimitri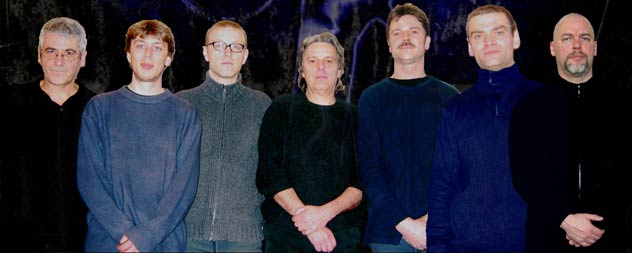 Univers Zero 2004




Small photos using by permission from NEARfest www.nearfest.com